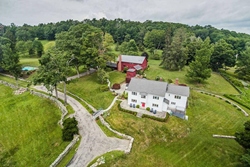 Pompano Beach, Florida (PRWEB) August 24, 2017
"Mark Twain's Family Farm House"
Family was of primary importance to Samuel Langhorne Clemens (Mark Twain) as the author of, and the boy in, "The Adventures of Tom Sawyer" and "Adventures of Huckleberry Finn." He married Olivia Langdon from a wealthy New York family, who was the sister of a good friend. He and "Livy" had four children; a boy who died at 19 months, and three girls. As a provider, Clemens had made today's equivalent of $8 million dollars from his writing and touring while his children were still young. Unfortunately due to some bad investments, he lost everything, including most of his wife's inheritance. Unable to support the expense of their large home in Hartford, Connecticut, the family moved to Europe until an American friend and financier came to his aid and helped him file bankruptcy and set up a plan for paying off his debts and rebuilding his personal finances. With this accomplished and the sad death of his beloved wife in Europe, Clemens returned to Connecticut with his daughters to begin anew.
Clemens faced a great deal of adversity in his life including the death of his youngest brother, Henry, in a steamboat explosion that he had foreseen in a dream a month before the tragedy. Sam's oldest daughter, Susy, died of spinal meningitis at the age of 24 and the middle daughter, Clara, married a Russian concert pianist and moved back to Europe. By the early 1900s, only he and his youngest daughter, Jean, were the last of the family unit. He worried about Jean. She had been beset with severe epilepsy at the age of 15 and had been placed in an epilepsy colony in New York as soon as they returned to Connecticut. Clemens settled down at his country home, Stormfield, outside of Redding, Connecticut and bought the farm next door, "Jean's Farm," for Jean in the hope that someday she would be in permanent remission and provided for after his death. By 1909, Jean had been in remission long enough to return to her father's house where she would become his companion, secretary and housekeeper. This worked out well and she made daily trips to her farm by horseback. On the morning of December 24th, while taking her morning bath at her father's house, Jean had a seizure and drowned in the bath water. From shock and heartbreak, Samuel Clemens escaped into penning a manuscript about Jean and how he was the only one left at home and was so alone. Five months later, Samuel Clemens died - possibly from a broken heart. Only his daughter Clara outlived him, and with no children of her own, the Clemens bloodline was irretrievably broken when she died in 1962.
The farm Samuel Clemens bought for Jean, next door to his own country home, is now for sale. Although she never had the chance to live there full time, when Jean returned from the sanitarium to her father's house, she would ride over daily to tend the animals she kept there and enjoyed spending time exploring the property.
Jean's Farm is a storybook farm dating back to the mid 1800s spread across its pastoral 18.7 acres. Well sized for a gentleman's farm for horses or as a hobby farm, though it still retains the romance of its original roots on the exterior, the interiors of the buildings have been completely refurbished from the studs out and repurposed for today's lifestyle and entertaining. Today, the farmhouse has lost none of its country charm and the 1860's barn is now devoted to a movie theater, games and indoor sports and the bonus of a full apartment. Nothing has been left out when it comes to family fun and entertaining. There are also a separate studio and a saltwater swimming pool, children's play area and plenty of room to roam. With approximately 3,645 square feet, the main house has five bedrooms and four baths, hickory floors and antiqued ceiling beams. Windows and doors are all new and the eat-in kitchen has been outfitted with marble counters, custom cabinetry and Gaggenau appliances. All rooms are spacious and filled with sunlight, including the large upstairs landing. Grounds include meadows, stone walls, steps and bridges, fish pond, mature trees, a shaded drive and cheerful flowerbeds. The listing agent is Lois Lehman of William Raveis Luxury Properties in Southport, Connecticut. Priced at $1.85 million.
Visit TopTenRealEstateDeals.com for more historic, celebrity and spectacular homes and real estate news.