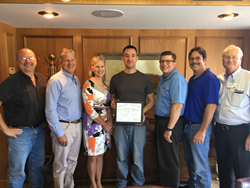 "Kenmode's future depends on attracting top talent who are willing to acquire a very high skill level in precision machining,"
Algonquin, IL (PRWEB) August 24, 2017
Kenmode Precision Metal Stamping has announced the promotion of Adam Hoambrecker of Lake in the Hills to tool and die maker, after he successfully completed a five-year, 10,000-hour apprentice program in tool and die making. Kenmode's rigorous apprenticeship program in metal stamping is registered with the U.S. Dept. of Labor and encompasses tuition-reimbursed coursework in industrial manufacturing technology, engineering design, and technical mathematics at Elgin Community College and five years in a paid apprentice position with Kenmode. Four others are currently participating in the Kenmode apprentice program.
Kenmode has offered an apprentice program for more than 50 years. Each Kenmode apprentice is assigned to a mentor and gains experience with a broad array of equipment involved in every step of tool and die making, which requires a high level of machining, mechanical and mathematical abilities.
Hoambrecker credits an Elgin High School teacher for encouraging him to pursue a career in metalworking. "In manufacturing, the tool and die career is considered the top level to attain, so that was my target," Hoambrecker says. "Completing a new die that can run in production is very satisfying to me."
"Kenmode's future depends on attracting top talent who are willing to acquire a very high skill level in precision machining," says Kurt Moders, president. "We are proud of Adam's accomplishments throughout his apprenticeship and welcome him to one of the largest teams of tool and die makers in the industry."
According to Bob Denley, director of human resources, Kenmode is always looking for qualified candidates for the tool and die making apprenticeship program. People may enter the program directly after completing high school or after experience working with precision manual machinery, such as lathes, mills and grinders. Candidates may send their resumes directly to Bob Denley at Kenmode at rbd@kenmode.com.
ABOUT KENMODE PRECISION METAL STAMPING
Since its founding in the Chicago suburbs in 1960, Kenmode has built a reputation for strict adherence to uncompromised quality and performance standards in the manufacture of complex, high-precision custom metal stampings and assemblies for the automotive, electronics, consumer goods, insert molding, and medical device industries worldwide. Today, Kenmode fields one of the largest and most experienced engineering, design, and tool and die teams in the industry and employs the latest technology throughout the metal stamping design and production process. Kenmode handles a wide range of metal stamping materials and component parts, from micro-miniature medical stampings to large automotive stampings made from steel.