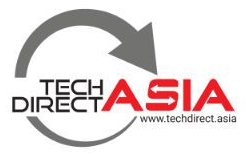 Singapore, Singapore (PRWEB) August 23, 2017
TechDirect.Asia (http://techdirect.asia) has added networking giant D-Link's products to its ecommerce store. The company now offers a complete range of D-Link hardware and consultation services to small-to-medium size companies. The service and hardware combination will help enterprises in Asia upgrade their current networking and security.
"TechDirect.Asia is proud to announce their partnership with D-Link, a reputed, global networking giant with a strong worldwide customer base, robust business infrastructure and a widespread reach across the globe." said Chief Marketing Officer Sharon Chin. "With their superior hardware and our established reputation for effective, technical support, we can help create new networking standards in the business community, help companies stay connected and develop stringent security protocols that keep information safe."
"D-Link has long-established itself as a cost-effective and versatile networking solutions provider. Their products, focusing on ease-of-use and seamless integration into existing protocols, hardware and software, help companies around the world achieve the next level of success. Combined with TechDirect.Asia's networking consultation programs, small-to-medium size enterprises can now enjoy the connectivity and security of much larger companies, at a fraction of the price," added Chin.
"We are excited to enhance our relationship with the small-to-medium businesses, offering beyond just computer hardware." Chin concluded, "this sector requires top-quality hardware coupled with top-notch security and systems support. With our focus on hardware and consultation, we can ensure the systems installed are being used to their full potential."
To learn more about TechDirect.Asia, visit http:techdirect.asia/about-techdirect and http://techdirect.asia/blog.
About TechDirect.Asia
The launch of TechDirect.Asia further broadens Altostratos' offering to its global IT customers, by enhancing the ability of global IT brands to reach their enterprise and small-and-midsized business (SMB) customers in Asia via a one-stop e-commerce channel that complements the brands' offline sales channel strategies and online presence. Recognising that business and corporate buyers have different needs compared to consumers, TechDirect.Asia helps buyers get complete visibility across solutions, along with a holistic, unified view of the path-to-purchase.
Contact Details:
TechDirect.Asia
Infonet System & Services Pte Ltd
(a member of the AltoStratos Group)
Singapore
Phone: +65-6816 5656
Source: TechDirect.Asia
###