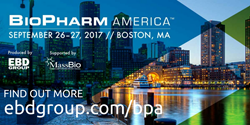 Carlsbad, CA (PRWEB) August 24, 2017
In one month, 800+ life science leaders will gather in Boston for the tenth annual BioPharm America™ life science partnering event, September 26–27 at the Sheraton Boston Hotel. The event is part of Biotech Week Boston, a festival that gives delegates additional networking opportunities with 4,500+ life science industry influencers participating in 8+ Boston-based events hosted by KNect365 and partners, September 25–28.
Find out more at https://ebdgroup.knect365.com/biopharm-america/registration-information?utm_source=partner&utm_medium=PRL&utm_term=BPA17-2nd-press-release-linkto-BPA17REG&utm_campaign=BPA17
The event will bring the most innovative biotech companies together with executives from pharma and finance to launch drug discovery partnerships. The unique forum provides the infrastructure for dealmaking via one-to-one partnering meetings facilitated by partneringONE®.
An expanded biotech startup program is designed to provide access to the top-tier venture capitalists, pharma and private equity investors at the event in search of innovation partners. As well, the event concurrently features the Inaugural Charles River World Congress on Animal Models in Drug Discovery & Development to provide a platform for academic researchers that includes keynotes and breakout sessions focused on the major driving trends in reverse translational medicine.
The BioPharm America program features trending topics headlined by global life science executives. Highlights include:

"What's the next big thing on investors' wish list?" with speakers from MPM Capital; Medicxi; Novo Ventures; and PureTech Health.
"Alternative financing and venture philanthropy" with speakers from Foley Hoag LLP; Michael J Fox Foundation; Landmark Capital and Family Office; National Cancer Institute; and The Leukemia & Lymphoma Society.
"It takes two: Advancing innovation through academic-industry partnerships" with speakers from Hogan Lovells and Johns Hopkins Technology Ventures.
"Beyond IO: A future free from silos" with speakers from ClearView Healthcare Partners; Novartis Institutes for BioMedical Research, Inc.; Mass General Hospital Research Institute; and Nanobiotix USA.
"What's the next big thing on pharma's wish list?" with speakers from Astellas; Bayer; Merck; Novo Nordisk; STAT News; and more.
Partnering opened August 15. Register online on the BioPharm America event web page.
Additional links and information:
Follow BioPharm America™ on Twitter: @EBDGroup (hashtag: #BioPharmUSA).
About EBD Group
EBD Group is the leading partnering firm for the global life science industry. Since 1993, biotech, pharma and medical device companies have leveraged EBD Group's partnering conferences, technology and services to identify business opportunities and develop strategic relationships essential to their success.
EBD Group's conferences are run with the support of leading corporations and international trade associations and include:
BIO-Europe® and BIO-Europe Spring®, Europe's largest life science partnering conferences, supported by the Biotechnology Innovation Organization (BIO)
BioPharm America™, the fastest growing partnering event in North America
Biotech Showcase™, a unique forum in San Francisco for presenting to investors and business development executives, co-produced with Demy-Colton
Digital Medicine & Medtech Showcase, at the intersection of technology and medicine
BioEquity Europe, the investor conference co-organized with BioCentury Publications and BIO
ChinaBio® Partnering Forum, the first dedicated biotech/pharma partnering conference in China, co-produced with ChinaBio® Group
Cell & Gene Exchange, a partnering forum focused on the patient community in cell and gene therapy sectors, co-produced with Alliance for Regenerative Medicine (ARM).
EBD Group's sophisticated web-based partnering service, partneringONE®, is used as the partnering engine at numerous third-party events around the world. Tune into EBD Group's Partnering Insight for timely coverage of news that influences the business strategies of the life science industry.
EBD Group is an Informa company. Informa is the largest publicly-owned organizer of exhibitions, conferences and training in the world.
EBD Group has offices in the USA and Europe.
For more information please visit http://www.ebdgroup.com.
Contact:
Erin Righetti
EBD Group
+1 760 930 0500
erighetti(at)ebdgroup(dot)com