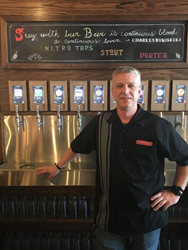 iPourIt gave my husband and I the confidence to move forward with our dream of opening our own restaurant and bar.
ST. LOUIS, MO (PRWEB) August 24, 2017
When Tapped owner, Lindsay Reel and husband Ryan decided to open their own bar and restaurant in St. Louis, they knew they'd have to offer something new and different to the neighborhood.
"So many restaurants and bars come and go. You need something to stand out and create sustained excitement and interest," said Lindsay Reel. After discovering a self-pour wine bar on a business trip in New Orleans, she decided to bring the self-serve concept to St. Louis, giving Tapped its "X" factor.
"iPourIt gave my husband and I the confidence to move forward with our dream of opening our own restaurant and bar," said Reel. "So far so good! We have had such great success, we're already considering a second location."
Located in St. Louis' downtown Maplewood neighborhood—not far from beloved breweries such as Schlafly, Urban Chestnut, and Perennial Artisan Ales—the wine-loving duo immediately included craft beer in the Tapped concept.
"St. Louis is a HUGE beer town, so we needed a pour-your-own system that could operate with both beer AND wine," she said. "After searching online for the best self-pour system, we found iPourIt, and we could tell it was what we needed to monitor both beer and wine."
Using iPourIt's self-serve beverage dispense technology, Tapped features 40 craft beers and ciders and eight wine options on tap, all professionally curated to pair with the wood-fired, Neapolitan-style pizza and other food options Tapped is bringing to Maplewood.
How Pour Your Own Beer, Cider and Wine from iPourIt Works:
The iPourIt self-serve beverage dispense technology has customers pouring beer, cider or wine in a few simple steps.
A Tapped employee swipes the patron's driver license, credit card and RFID wristband in the iPourIt system at the check-in station.
The staff member gives the wristband to the patron, and that's it! He or she is now free to start their personalized beverage tasting adventure.
Each customer's consumption is tracked to the tenth of an ounce, and the tab is automatically calculated upon checkout.
St. Louis bars should take note: Along with providing a unique opportunity for patrons, Reel says iPourIt has boosted foot traffic, alcohol-to-food sales, and food revenues.
"We started with iPourIt because it helps us monitor keg levels extremely well, so it saves on waste. It has also been a draw due to having the first one in St. Louis. Most of our traffic is credited to offering self-pour, and we have very high alcohol sales because of it."
Bar owners aren't the only ones who love it: Reel says customers love iPourIt too. "We have had extremely great feedback from all ages! We already have many familiar faces. If you check out our Facebook page, the reviews speak for themselves."
Tapped is also reeling in customers with limited release, "one-off" beers, giving patrons ample opportunity to try new things without the pressure to commit to a single beer purchase.
"People can try a few ounces without buying a whole glass. Therefore, we have mostly moved away from offering the typical beers which may be common in other bars around town. Our patrons love trying new things and finding a new beer or wine they love."
Keeping track of all this craft beer, cider and wine is a breeze with iPourIt's extensive and easy-to-use technology. "iPourIt is a great technology on its own, with an app to back it up. We've experienced reduced beer loss and gained valuable oversight of beer sales with iPourIt, and it gives our business the ability to track what sells, and easily adjust, according to the data we collect," said Reel.
Overall, incorporating limited and locally-minded self-serve beer, cider and wine has set Tapped apart from other St. Louis bars and restaurants. "People love the self-pour concept, they come for the novelty of it," said Reel. "We've seen significant foot traffic and it's intuitive for customers to use."
About Tapped
Tapped provides a one-of-a kind drinking experience by allowing the freedom to self-pour. Using iPourIt self-serve draft technology, 48 taps offer a variety of craft beer, wine, cider, and coffee. At Tapped, our concept revolves around tasting and paying only for what you pour. Now, customers can sample a wide variety of craft beer and specially-selected wines tailored to taste. Tapped also offers a full food menu, featuring appetizers, sandwiches, entrees, and a tasty selection of pizza, made in an on-site woodfired oven. Learn more about Tapped at http://www.tappedstl.com, or get social on Facebook (facebook.com/tappedstl), Twitter (@TappedSTL), and Instagram (@TappedSTL).
Tapped • 7278 Manchester Road, Maplewood, Missouri • 314.899.0011
About iPourIt, Inc.
iPourIt, Inc. is a revolutionary self-serve beverage dispense technology that allows taproom and fast casual patrons to pour their own beer, cider, wine, cocktails and coffee, and it tracks and monitors every pour. iPourIt's data analytics gives bar and restaurant operators valuable information about who poured what, when, and where, so businesses may effectively target patrons and create a positive experience, while increasing revenues. iPourIt's self-serve solution is now in operation on 2,500 taps nationwide and counting, with more than 3.4 million ounces poured each month, and more than 5.5 million users, a number that grows every day. iPourIt is born and supported in the U.S.A. Learn more about iPourIt at ipouritinc.com, and follow us for updates on Facebook (facebook.com/iPourIt), Twitter (@iPourIt_inc) and Instagram (@ipourit).