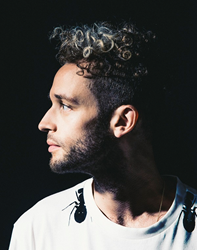 Now in its fourth year, ARTOPIA is enjoying a surge of popularity for its daring approach and appeal to anyone who connects with art in its purest form.
FORT LAUDERDALE, Fla. (PRWEB) August 23, 2017
The GLBX Council of the Greater Fort Lauderdale Chamber of Commerce has announced that chart-topping American pop artist Wrabel will headline the fourth annual ARTOPIA presented by JM Lexus. During this art-inspired evening on Saturday, September 23, from 7 to 10 p.m., at The Galleria at Fort Lauderdale, over-the-top entertainment, live artist experiences, visual arts and interactive elements will merge to create an artrageous spectacle.
Wrabel, whose real name is Stephen Wrabel, will perform live during ARTOPIA, made possible by Seminole Hard Rock Hotel & Casino in Hollywood, Florida. The Los Angeles-based singer-songwriter and musician based initially broke onto the scene in 2014 with the hit song "Ten Feet Tall," a collaboration with Afrojack, which has been streamed by millions around the world. Wrabel specializes in music that telescopes small moments into songs with big impact. On tracks like "11 Blocks" and "Gimme Your Love," the drums may get huge, but the feelings are deeply personal. This is pop music rooted in the singer-songwriter tradition, and it all starts with Wrabel sitting at a piano, fighting for self-expression and survival.
In addition to his solo work, Wrabel has also made a name for himself in the dance music world. Marshmello released Wrabel's song "Ritual" in 2016, which went to Top 10 on the Dance Charts and has over 25 million streams, and the dance duo Galantis released Wrabel's song "True Feeling" in July 2017. Wrabel just released "The Village" to critical acclaim for its powerful message championing LGBTQ rights. Since breaking into songwriting professionally, Wrabel has penned tracks for mainstream artists including Adam Lambert ("Nirvana" off the Trespassing deluxe edition), Ellie Goulding ("Devotion" from her recent Delirium) and Pentatonix ("Rose Gold," a cut on their debut set of originals).
"Seminole Hard Rock Hotel & Casino is proud to support initiatives like ARTOPIA that unite the community for common causes," said Susan Renneisen, vice president of community affairs and special events at Seminole Hard Rock Hotel & Casino. "We are thrilled to present Wrabel and other entertaining surprises that will elevate ARTOPIA even more as a signature Broward County cultural arts event."
In addition, ARTOPIA will feature "Art-A-Porter," created by Susanne Bartsch and sponsored by the Greater Fort Lauderdale Convention and Visitors Bureau's Film, Music, Fashion & Create division. Emerging fashion designers from New York City will strike a pose as models of their own cutting-edge couture. Each artist is his/her own designer, dresser and make-up artist. This living art presentation will include movements and motion set to music based on the character and style of each fashion artist. Once onstage, they will form an unusual and surprising tableau of human "Art-A-Porter" as envisioned by Susanne.
The evening will also feature short film presentations as part of OUTshine Film Festival, choral performances by the Gay Men's Chorus of South Florida, mini-theater drama productions by Island City Stage, a body painting exhibition by Amber LaValle and portraits by Lori Pratico. An exhibit by internationally recognized artist Romero Britto will be on display with works for sale to benefit the event's philanthropies.
Attendees will sip cool cocktails from Tito's Handmade Vodka and Barefoot Wine and relish delicious bites from Season's 52, Exquisite Catering, Sea Watch, Pelican Grand Beach Resort, Red Chair Catering and Grateful Palate Catering & Events. Mainstage performances will be hosted by Shawn Palacious.
"The GLBX is excited to see ARTOPIA grow and evolve with the inclusion of internationally recognized artists and entertainers," said Devin MacLachlan, event chair for ARTOPIA. "Now in its fourth year, ARTOPIA is enjoying a surge of popularity for its daring approach and appeal to anyone who connects with art in its purest form."
Funds raised will benefit the Greater Fort Lauderdale Chamber of Commerce and the GLBX Arts Fund with a portion of proceeds for the Gay Men's Chorus of South Florida, Stonewall National Museum & Archives, Island City Stage and OUTshine Film Festival.
Sponsors include JM Lexus, The Galleria at Fort Lauderdale, Seminole Hard Rock Hotel & Casino, Greater Fort Lauderdale Convention & Visitors Bureau, MAD Studios, I DO, Events, Gold Coast magazine, Hotspots magazine, South Florida Gay News, Go Riverwalk magazine, Outclique, Lightship Media, Goodman Public Relations, Minuteman Press, Memorial Healthcare System, First Green Bank, The Eppy Group and Coco Alarcon Photography.
General admission tickets cost $100 and include access to open bars and food stations throughout the night. VIP admission is $150 and includes a pre-event VIP champagne reception, performer/artist meet-and- greets, exclusive specialty food and beverage offerings and complimentary valet parking.
Tickets and additional information are available online at http://www.GLBX.org. To learn more about sponsorship opportunities, please contact Andy Perrott at (954) 621-1350 or andy@lightshiptv.com.