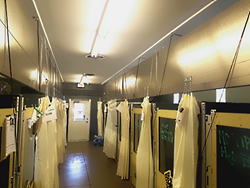 "We are delighted that the panels worked so well and that they will soon be treating the other kennel with our Quiet-Cloud Panels as well," said Lahnie Johnson, president and founder of Acoustiblok Inc.
Tampa, FL (PRWEB) August 25, 2017
K9s For Warriors, a non-profit organization that provides service canines to US veterans needing assistance contacted Acoustiblok Inc., a NASA Spinoff listed company, about an ongoing serious barking noise issue where their 30 or more service dogs-in-training are housed.
Anyone who has been in a kennel is not likely to forget the tension and stress they felt from the incredible constant barking noise which easily exceeds 100db. (OSHA requires hearing protection at 85db). Now imagine how stressed out the dogs are considering their hearing is vastly more sensitive than ours and all 30 dogs are barking continuously. The staff was required to wear hearing protection whenever in the kennel area.
After careful analysis of the situation, Acoustiblok solved the noise problem with their Quiet-Cloud® (pat.pend.) Industrial Sound Absorption Panels. Originally designed for absorbing high-frequency industrial noise in inhospitable environments, the all aluminum panels were a perfect solution as they are washable, fireproof, hydrophobic, and do not retain odors.
According to the organization, they are extremely pleased with the results. "These panels provide relief for every person and canine in the kennels. The dogs are calm and no longer stressed out. This improvement also helps the staff focus more and eases their stress as well. It is hugely appreciated and we are very thankful for this upgrade to our kennels," said Brett Simon, President of K9s For Warriors.
Located in Ponte Vedra, Florida, K9s For Warriors trains rescue and shelter dogs to become service dogs for veterans; they have two kennels on property to house the dogs. They can handle up to 30 dogs in each kennel.
The noise problem they were confronting was the echoing/reverberation of the barking; the way kennels are built, all tile and concrete, amplifies the noise immensely.
A single dog barking can reach 80-90 decibels (there are dogs that can reach over 100 dB). When you have a group of dogs such as those in a kennel or daycare center, the typical noise level can reach an alarming 115 decibels. At this decibel level a person should not stay in the area even 15 minutes without hearing protection.
To put it in perspective, normal human speech is around 60dB; an automobile 80dB and a jackhammer 90dB. Louder than 85dB, damage to the hearing starts to occur. In addition to hearing damage, high noise levels have been linked to lowered productivity, decreased communication skills, insomnia and other sleep disorders, anxiety, heart arrhythmia and more.
The solution was to install eighteen Quiet-Cloud Industrial Sound Absorption Panels. The panels are unique in that they absorb sound globally (from every direction). Each light weight panel was suspended from the ceiling hanging from one edge as a banner. They spaced the panels end to end two inches apart from each other to allow the perforated panel ends to also absorb sound. The facility's maintenance team was able to install the panels in the kennel in two days and found the process simple and easy (see photos).
K9s For Warriors chose Acoustiblok because they wanted the best product to fix the problem and also the most durable and cost effective. Acoustiblok, with over 20 years in business, is a Florida-based manufacturer; this gave the non-profit organization added comfort if any replacement parts/pieces/maintenance might be needed over time.
"These acoustical panels can hang from a chain or cable either horizontally resembling a cloud or vertically from side edges resembling a banner or can also be easily put into standard ceiling tile grid system. They are entirely welded aluminum, washable, hydrophobic, UL STD 723 tested, and 0 smoke/flame. And as all of Acoustiblok's products, they are entirely made in the USA with all US materials," said Lahnie Johnson, President and Founder of Acoustiblok, Inc.
"Acoustiblok was happy to be of assistance to this worthy organization. We significantly reduced the cost of the panels for them and also picked up the cost of shipping. We are delighted that the panels worked so well and that they will soon be treating the other kennel with our Quiet-Cloud Panels as well," Johnson concluded.
About Acoustiblok – "Quieting the World"
The Acoustiblok Corporation, a NASA Spinoff listed company, has received top awards in the British House of Commons and has been featured throughout the world on National Geographic TV for its unique contributions towards reducing noise pollution. Acoustiblok also manufactures and markets such innovative products throughout the world. Appropriately, the company's catchphrase is, "quieting the world."
Primary products include Acoustiblok® viscoelastic polymer based soundproofing material, Acoustifence® outdoor acoustical fence, All Weather Sound Panels®, QuietFiber® insulating material, Quiet-Cloud® industrial sound absorption panels, and Acoustiblok Wall-Cover®, post-construction soundproofing material. Acoustiblok products are used in industrial, residential, commercial, and marine sectors worldwide. The company's products are all made and sourced in the United States.
Acoustiblok Inc. ships products to more than 50 countries through a network of stocking distributors in the United States, and on five continents across the globe. http://www.acoustiblok.com
About K9s For Warriors
K9s For Warriors is the nation's largest and most successful service dog provider for veterans dedicated to providing service canines to warriors suffering from Post-traumatic Stress Disorder (PTSD) and Traumatic Brain Injury (TBI) as a result of injuries incurred during military service Post-9/11.
The canines used in the program are carefully evaluated and are former rescue/shelter dogs or dog-owner surrenders. This program gives a new leash on life to rescue dogs and military heroes. This year the organization plans to ramp up to serve 12 warriors per month (up from 9-10 they are currently serving per month). Plans are also in the works to build an indoor training facility in 2017. Find more information at http://www.k9sforwarriors.org