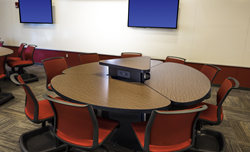 SMARTdesks is launching its latest innovation for the Immersive Learning Experience: the TriO Small Group Collaboration Table.
Baltimore, MD (PRWEB) August 29, 2017
SMARTdesks announces today that company principals will be showing active learning and collaborative technology furniture innovations at EDspaces, Booth 1504, Kansas City Convention Center, Kansas City, MO, October 25-27, 2017.
SMARTdesks is launching its latest innovation for the Immersive Learning Experience: the TriO Small Group Collaboration Table. More than a circular table, TriO's three table top sections suggest groupings for team work, but also imply privacy in the context of a digital commons area. This encourages focus and engagement, with flexibility of purpose on the fly.
TriO's centerpiece console boasts three Power Convenience Outlets serving each table section: each has 1 power receptacle (120 VAC, spill resistant) 2 USB charging ports (2.1A, 11W, 5V/DC). Additional technology can be stored in the center column with convenient cable management. AV technology stored in the console may be access from locking vented doors in the base, or from the hinged top.
Power and data connectivity for Bring Your Own Devices (BYOD), asset security, and active learning furniture solutions will also be shown.
SMARTdesks is a mainstay in customized technology furniture since 1996. The business model from the beginning to present is to design and build computer furniture, customized for the space and IT integration specifics, bringing together a design team to align with engineering and manufacturing. The internet and cloud collaboration makes communication possible world-wide. SMARTdesks provides a complete turnkey system, with products made in the USA, complying with green manufacturing materials and techniques, backed with Lifetime Warranty to the original buyer with comprehensive delivery, installation and service support per customer requirements.
EDspaces is held in conjunction with the American Institute of Architects Committee on Architecture for Education. EDspaces is the premier event for the educational facilities marketplace. Architects and decision makers for Pre–K – 12, colleges, universities, and corporations will gather to learn about trends and experience the latest products and services to enhance student learning.
Other knowledge partners include:
The Center for Green Schools at the U.S. Green Building Council, established to drive the transformation of all schools into sustainable and healthy places to live, learn, work and play. The Center works directly with teachers, students, administrators, elected officials and communities to create programs, resources and partnerships that transform all schools into healthy learning environments.
The International Interior Design Association (IIDA), which strives to create a strong niche for the most talented and visionary Interior Design professionals, to elevate the profession to the level it warrants, and to lead the way for the next generation of Interior Design innovators. The Association provides a forum to demonstrate design professionals' impact on the health, safety, well being and virtual soul of the public, balancing passion for good design and strategy for best business practices.
The American Institute of Architecture Students (AIAS)—an independent, non-profit, student-run organization dedicated to providing unmatched programs, information, and resources on issues critical to architectural education. The mission of the AIAS is to promote excellence in architectural education, training, and practice; to foster an appreciation of architecture and related disciplines; to enrich communities in a spirit of collaboration; and to organize students and combine their efforts to advance the art and science of architecture.
Education leadership will join together to explore leadership challenges, strengthen skills, and build networks at EDspaces. Speakers will focus on the power of education to equalize, uplift, and motivate. The conference also will offer various breakout sessions throughout the day. Attendees can choose areas of focus and dive deeper into issues, working to transform education, so all students have the chance to succeed. The conference encourages networking and gives participants a chance to forge lifelong professional connections throughout the education sector and experience new product innovations.
SMARTdesks designs and manufactures innovative, custom computer conference tables and computer classroom furniture. Each product is made to order, nuanced for the technology, purpose and interior design choices for the space. SMARTdesks is the patent holder for flipIT® products and is the sole source for flipIT and factory integrated flipIT furniture products. Serving universities, corporations, government and military clients world-wide, SMARTdesks furniture is made in the USA using Certified GREEN manufacturing methods. For more information, contact smartdesks through the web site— http://www.smartdesks.com