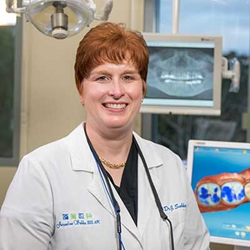 Thousand Oaks, CA (PRWEB) August 24, 2017
Dr. Jacqueline Subka, a respected general dentist, is now pleased to offer computer-guided dental implant placement for new patients with missing teeth, with or without a referral. Dr. Subka uses a modern Cone Beam CT imaging system to capture 3D images of the oral structures of patients' mouths. These images are then used to create custom treatment plans that assist the doctor in precisely placing dental implants in Thousand Oaks, CA, during surgery.
Computer guided dental implant placement is one of the optimal placement strategies for dental implants in Thousand Oaks, CA. Patients who undergo the procedure are more likely to have an ideal outcome due to the high accuracy that is possible with this type of surgery preparation. Instead of taking educated guesses regarding the placement of nerves, blood vessels and bone volume along the jaw, Dr. Subka uses Cone Beam CT imaging software to pinpoint where these important structures are prior to surgery. She uses this information during surgery to provide optimal placement of each implant. Patients may experience fewer complications, a greater chance of success with the implant, and an easier recovery with this method.
The technology of the Cone Beam CT imaging system is what allows guided dental implants in Thousand Oaks, CA. The system produces 3D, high definition x-rays in just a matter of seconds. These panoramic images are clear and easy to follow, which makes diagnosing conditions easier and more accurate. The images offer more information than can be gathered using traditional x-rays, and they allow Dr. Subka to replace missing teeth with fewer risks.
Dr. Subka has been practicing dental medicine for more than 18 years. Patients who want to restore their missing teeth can now turn to her with confidence. Contact her office at 805-373-1919 to schedule an appointment.
About the Doctor
Dr. Jacqueline Subka is general dentist offering personalized dental care for patients in Thousand Oaks, CA since 1999. Dr. Subka received her dental degree from the prestigious University of Southern California School of Dentistry in Los Angeles. Dr. Subka practices gentle dentistry and incorporates state-of-the-art techniques to provide leading, minimally invasive care. She and her team are committed to continuing education and strive to provide high-quality, personalized dental care to each patient. To learn more about Dr. Subka and the dental services she provides, visit her website at http://www.subkadds.com or call 805-373-1919.