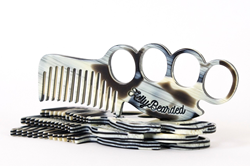 A nod to a time when tools were uniquely sculpted to a mans hand...
SALINA, KS (PRWEB) August 25, 2017
Just released from Fully Bearded. Fully Bearded announces the release of their much anticipated male grooming product, a beard comb that takes its design cues from the knuckled grip of brass knuckles. The official launch date for the comb is September 2017.
The team at Fully Bearded has seen a lot of excitement from the beard community and the public in general over this beard comb. Though the original design was met with great reviews, feedback indicated that there was still room for improvement. As a response, the company has developed a stronger design and completely changed the manufacturing process to realize a more custom product. As a result, many of the drawbacks of mass-produced combs have been eliminated, such as the mold parting line on the teeth that often causes curled hair.
The knuckled beard combs are individually milled from a durable, natural material called cellulose acetate, a derivative of cotton. This is the same material often used in fine Italian eyeglass frames, and unlike most plastics used in combs, is not a petrochemical. Cellulose acetate is used in high-end skin-contacting products due to its soft, natural feel, hypoallergenic properties, and mechanical strength. Fully Bearded claims that the design and the comb's material will diminish the static that is inherent with conventional combs.
When asked why Fully Bearded decided to take such a drastic design departure from other combs and beard grooming products, Neil Ward, a spokesman for the company, responded that "It nods to a time to when men's products were uniquely sculpted to a man's hand. We wanted to build a premium product a lot like a good whiskey – a product made in small, handcrafted batches, with each one carefully crafted and individually inspected."
Fully Bearded is a subsidiary of Hatch Innovations, a prototyping and design company. Hatch is comprised of three friends that came together to release the beard comb as a pet project. The design and production of the original beard combs, along with other products, resulted in the addition of equipment, tooling, and ultimately the capabilities that Hatch Innovations now enjoys. The Hatch guys are realizing their dream to bring a widened portfolio of unique consumer products, including classic automotive components, to market.
Watch for Hatch Innovations, which will be featured in upcoming episodes of the new Make48 program to be televised on PBS. Make48 is an invention competition documentary in which inventors and their inventions are followed from concept to market.
More information can be found at http://www.fullybearded.com, on Twitter, Instagram, and look for Fully Bearded on Facebook.