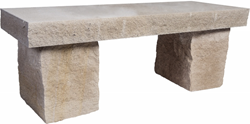 The perfect complement to any materials palette and designed to ADA compliant height ...
Bloomington, ind. (PRWEB) August 25, 2017
New stone benches from Indiana Limestone Company unite strong visual appeal, ease of installation and ADA compliance in an attractive new addition to the company's growing Urban Hardscape line.
The simple-to-install benches make it easy to add a solid, attractive seating element to landscape/hardscape designs without significant building effort or cost. Each bench is delivered on a single pallet to the jobsite, with a simple bill of materials and minimal assembly effort required.
An 18" height makes the benches compliant with rules of the Americans with Disabilities Act. Similarly constructed competitive products are too short to comply. The benches fit beautifully into commercial, municipal and consumer applications. Wherever they're installed, their lasting strength means decades of service.
Indiana Limestone benches are made with the company's signature Full-Color Blend stone, an authentic, natural product. Their simple, monolithic design is perfectly adapted to a wide range of architectural styles and landscape contexts.
"Indiana Limestone benches are a great fit to our product portfolio for Urban Hardscapes," said Ben Wojcikiewicz, the company's Product Manager. "Unlike cast products, which mainly design seating elements into walls, Indiana Limestone is easily fabricated from our Natural Stone into freestanding benches. The perfect complement to any materials palette and designed to ADA compliant height, this bench is at home in any residential or commercial project."
For more on Indiana Limestone Company and its products, call (866) 374-0358 or visit indianalimestonecompany.com.
About Indiana Limestone Company
Indiana Limestone Company is unmatched as the premier supplier of Indiana limestone in a range of beautiful and lasting building products. Founded in 1926 (with predecessor firms that had been quarrying limestone since the mid-1800s), ILCO today remains the provider of choice for this internationally renowned natural stone. Throughout an illustrious history in which its stone has made such iconic structures as the Empire State Building, National Cathedral, and the Pentagon, ILCO has reliably provided the highest quality products and services carefully tailored to the needs of the market with an environmental, natural focus.