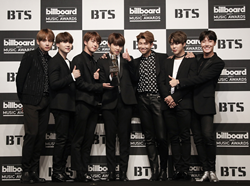 Seoul, Korea (PRWEB) August 23, 2017
'Her' and #BTSCB0918 Trending Worldwide on Twitter
Album Package To Include Four Versions
'Her' Will Include a Hidden Track Written And Produced By Rap Monster
BTS today revealed the official release date for their new album, Love Yourself 'Her' slated for September 18, 2017. Pre-order begins this Friday, August 25, 2017. The announcement was made via the official BTS Fan Cafe Channel at 12:00 midnight, (KST) on August 22, 2017 which is 11:00am ET, today August 23, 2017.
Further information will be provided in the near future via the official BTS Fan Cafe channel.
BTS is cementing their reputation as global pop stars, having recently won 'Choice International Artist' at the '2017 Teen Choice Awards' on August 13, 2017 among other worldwide accolades.
Check out the highlight reel for the recently revealed 'Love Yourself' series, which is a move forward in creative vision from BTS' previous reveals from the 'The Most Beautiful Moment in Life' series and 'Wings.' https://www.youtube.com/watch?v=EHdK5U2hf4o
CONTACT:
Eshy Gazit, North American Partner for BTS
Eshy(at)gramophone.media
FOR PRESS INQUIRIES:
Ellyn Solis, Ellyn(at)ei-pr.com
Samantha Alaimo, Samantha(at)gramophone.media