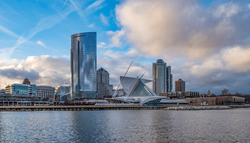 Milwaukee, WI (PRWEB) August 24, 2017
Gilbane Building Company is pleased to announce the successful completion of the 1.1 million SF Tower and Commons project for Northwestern Mutual in the heart of downtown Milwaukee along the lakefront. This important project allows Northwestern Mutual to better serve the expanding needs of its more than four million policy owners and clients. Gilbane served as construction manager on this massive downtown project with JV partner CG Schmidt.
The 32-story tower adjoins the two-block-long, three-story space known as the Commons. Amenities include a three-acre public green space with abundant gardens and trees, a coffee shop open to the public, an interactive museum, 75,000 SF food server on the second and third floors, 25,000 SF fitness center, and outdoor balconies on the 31st and 32nd floors.
The Tower and Commons construction began in 2014, and local community impact was a high priority for the team from day one. Early on, Gilbane worked closely with the Wisconsin Regional Training Partnership (WRTP/BIG STEP), Milwaukee's Office of Small Business Development (OSBD), the Milwaukee Building & Construction Trades, local affinity groups including the ethnic chambers of commerce, and other key stakeholders who support and engage local and small construction firms and related services. Gilbane and its contracting partner dedicated full resources to support the owner's commitment to the City of Milwaukee's SBE requirements and residents preference program (RPP).
Small Business Enterprises were awarded more than $121.5 million in contracts and commitments of applicable construction and professional services contracts as of the end of 2016. Milwaukee residents eligible under the Residents Preference Program (RPP) performed 45.1% of the construction hours on the project for this same period. The final results on these commitments will be presented to the city of Milwaukee by year end 2017.
"The size of the Tower and Commons project is unprecedented for Milwaukee," said Adam Jelen, Senior Vice President at Gilbane, "but what's more impactful and really our mission from Day 1 was to make a difference in the small business community and in the inner city workforce of Milwaukee, and I truly believe we did make an impact."
About Gilbane Building Company
Gilbane provides a full slate of construction and facilities-related services – from pre-construction planning and integrated consulting capabilities to comprehensive construction management, general contracting, design-build and facility management services – for clients across various markets. Founded in 1873 and still a privately held, family-owned company, Gilbane has more than 50 office locations around the world. For more information, visit http://www.gilbaneco.com.
For more than 30 years, Gilbane's Milwaukee office has served a wide variety of market sectors and clients throughout Wisconsin including Northwestern Mutual, Waukesha County Health and Human Services, Medical College of Wisconsin, Potawatomi Hotel & Casino, Schlitz Park and Schreiber Foods.