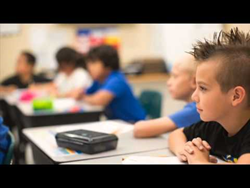 MediExcel is committed to supporting the communities we serve
El Centro, CA (PRWEB) August 31, 2017
Today, MediExcel Health Plan, a California HMO specializing in Binational Healthcare, presented Ballington Academy for the Arts & Sciences, with a new electronic bulletin board, a two-year technology subscription and more than 100 new backpacks.
"This generous donation will help contribute to the academic success of our student body for this upcoming school year and add to their future academic success," stated Ballington Academy for the Arts & Sciences Principal William Anderson. "Many students come from low-income homes in El Centro and parents may have difficulty buying supplies or investing in school property. Donations such as this is why we are able to continue offering innovative and quality education focusing on real-world skills to our students."
The $5,000 in-kind donation builds on a longstanding partnership between MediExcel Health Plan and Volunteers of America Southwest, the nonprofit, faith-based organization whose Community and Education Corporation makes Ballington Academy for the Arts & Sciences possible.
"MediExcel is committed to supporting the communities we serve. By partnering with Volunteers of America and assisting their efforts of providing the necessary tools to improve and transform lives, we are not only impacting the lives of the students but everyone in their communities," said Anthony Llompart, Director of Sales & Marketing for MediExcel Health Plan. "We are pleased to continue our strong partnership."
Ballington Academy is a public charter school educating students from transitional kindergarten through sixth grade. The school offers an innovative science, technology, engineering, arts and mathematics (STEAM) curriculum, using a hands-on, projects-based learning approach. The goal of this curriculum is to give students real-world, 21st century skills in an innovative and engaging environment resulting in high academic results. For more information, visit http://www.ballingtonacademy.org.
MediExcel Health Plan is an ACA compliant, Binational HMO, licensed by the California Department of Managed Health Care (DMHC). We offer covered health benefit options to employer groups in San Diego and Imperial County. Care is delivered at our all-inclusive healthcare campus in Tijuana, MX and through our Medical Network in Mexicali, MX. For more information about MediExcel plans and services, please visit http://www.mediexcel.com.