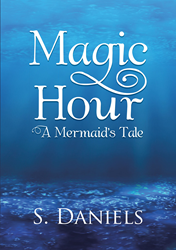 OCALA, Fla. (PRWEB) August 28, 2017
A Florida-based author has released her debut fantasy novel about the whirlwind romance and subsequent adventures of a charming sailor and a beautiful mermaid. In "Magic Hour," S. Daniels presents a fast-paced love story that will take readers on an aquatic journey through the mysteries, wonders and dangers of the sea.
Set off the shore of Costa Rica, Daniels' book chronicles the fantastical tale of David McAllister, a skilled seaman, and Gem, a curious mermaid. When the pair crosses paths in the dark ocean waters, they are bonded by their instantaneous attraction to one another, marking the start of a magical expedition that will take them to uncharted destinations.
"Creating this book helped me to rediscover my imagination and deep passion for writing," Daniels said. "Through its pages, I hope to show readers that love overcomes all obstacles, knows no bounds and is stronger than hate."
Overflowing with colorful descriptions, "Magic Hour" presents a transcendent escapade into the briny deep. As Gem and David embark on their thrilling journey, readers will find themselves swept up by the couple's captivating romance and riveted as the duo faces down the perilous threat of an ancient witch's curse.
"Magic Hour"
By S. Daniels
ISBN: 978-1-4834-6550-0 (paperback); 978-1-4834-6553-1 (electronic)
Available at the Lulu Online Bookstore, Barnes & Noble and Amazon
About the author
S. Daniels has been an artist and creative person for as long as she can remember and originally wrote "Magic Hour" as a gift for her husband and children. Daniels majored in art in college and created short stories and illustrations often in her youth. She currently resides in Ocala, Fla.
###
Review Copies & Interview Requests:
LAVIDGE – Phoenix
Danielle Grobmeier
480-648-7557
dgrobmeier(at)lavidge(dot)com
General Inquiries:
LAVIDGE – Phoenix
Maggie Driver
480-998-2600 x 584
mdriver(at)lavidge(dot)com