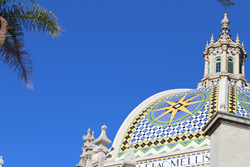 San Diego, CA (PRWEB) August 24, 2017
Balboa Park changes the game on "unlucky" number 13 with its annual Explorer Pass: pay for a 12-month membership and get the 13th month free! And, sign up by September 30, 2017 and receive complimentary admission to Maker Faire San Diego, the Park's annual celebration of innovative technology, education, arts, crafts, engineering, food and sustainability.
The Balboa Park Explorer Annual Pass provides passholders the opportunity to explore the rich cultural and artistic offerings of Balboa Park in an easy and affordable way, and is the best money-saving option for enjoying all the Park has to offer. Benefits include:

FREE general admission* to 16 museums throughout the Park
Explorer Experiences—exclusive events, behind-the-scenes access, tours, and more!
Complimentary admission to Maker Faire San Diego and discounts on future events.
Customized newsletters and personal recommendations directly from Park staff.
NEW: discounted rides on the Electriquette drivable wicker carts.
No blackout dates for your Annual Pass.*
With purchase of the Balboa Park Explorer Annual Family Pass, receive free admission to the entire weekend of Maker Faire San Diego, a value of $168 for a family of six. Now in its third year, Maker Faire San Diego is a unique, family-friendly event for innovative, imaginative do-it-yourselfers who like to tinker and love to create, and also for those curious minds who want to see what new and cutting-edge possibilities are just around the corner.
ABOUT THE BALBOA PARK ANNUAL EXPLORER PASS
The Balboa Park Explorer Pass provides general admission to 16 museums in Balboa Park, with discounts for families, seniors and students, and no blackout dates,* starting at just $99. In addition to exclusive Explorer-only events monthly, Annual Explorers also receive tailored, bi-weekly newsletters, up-to-date special announcements and personal recommendations and insights directly from Park staff. Annual, One-Day or Multi-Day Explorer Passes are available for purchase online at Explorer.BalboaPark.org. The Explorer Pass directly funds participating museums in Balboa Park. Visit us at Facebook.com/ExploreBalboaPark, Instagram.com/ExploreBalboaPark, Twitter.com/ExploreBP.
ABOUT BALBOA PARK CULTURAL PARTNERSHIP
Balboa Park Cultural Partnership is a nonprofit organization through which 30 arts, science and cultural institutions in Balboa Park collaborate to achieve shared goals. By helping these groups achieve greater organizational efficiency, innovation and excellence, it seeks to contribute to the vitality and sustainability of Balboa Park. For more information visit http://www.bpcp.org.
*Pass must be used within one year of purchase. Not valid for select events, special exhibitions, programs and IMAX. Before visiting a museum, please contact the museum for information on additional events, special exhibitions, and film costs.
# # #