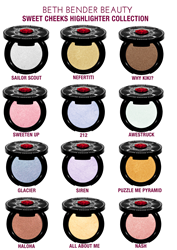 "We understand that one shade does not fit all skin tones, especially when it comes to makeup. Our goal was to develop a highlighter that would help all women glow with professional results" Beth Bender, Founder and President
Los Angeles, CA (PRWEB) August 29, 2017
Over the last six months Beth Bender Beauty has invested in manufacturing and developing their own cosmetics. This newest product was developed by Beth Bender, her son, Paolo Marchica and business partners, Alex Santella and Aubrey Stocker.
"We understand that one shade does not fit all skin tones, especially when it comes to makeup. Our goal was to develop a highlighter that would help all women glow with professional results. A formula that would allow anyone to build as many layers needed to achieve the perfect look—from a subtle illuminating finish to an extreme radiance. I think our new Sweet Cheeks Highlighter Collection have done just that." says Beth Bender, Founder and President of Beth Bender Beauty.
Beth Bender Beauty Sweet Cheeks Highlighter Collection boosts the skin with true light-reflecting pigments for a multifaceted, radiant finish. Layer shades for a beautiful dramatic glow or apply on top of your favorite eye and cheek products to create the ultimate shine. These buildable shades can be applied wet or dry to the face, eyes and body to accentuate your best features.
Beth Bender Beauty is known in the industry for their innovative eyeliner tools. They are the creators of Eyeliner Stencils, Eye Makeup Stencils, and their newest eyeliner tool, Eye Candy Adhesive Eyeliner Stencils.
Beth Bender Beauty products are: Vegan, Cruelty Free, Talc Free, Paraben Free, Sulfate free, Phthalates Free and Eco-friendly.
"It's more than just makeup at Beth Bender Beauty. We don't just put our logo on a product and call it our own. Everything from our formula, packaging, commercials and website have been meticulously designed in-house to give our customers an amazing experience. Sweet Cheeks Highlighters will be one of many unique products launched this year" Paolo Marchica, CEO, Beth Bender Beauty.
Offered in a sleek, black, mirrored compact adorned with a heart-shape authentic Swarovski crystal imported from Austria. Sweet Cheeks Highlighters will retail for $25.00. All colors will also be available in a refillable magnetic pan for $15.00.
Sweet Cheeks Highlighters are sold exclusively online. For more information, please visit: Beth Bender Beauty (bethbenderbeauty.com)
# # #