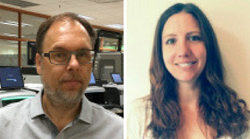 Yorba Linda, Ca (PRWEB) August 29, 2017
The rate of a chemical reaction is highly temperature dependent, making biochemical assays and enzyme-based applications sensitive to temperature fluctuations during the analysis period. When also considering the heat emitted by analytical devices in a laboratory, the average temperature will vary depending on the heating/cooling capacity of the equipment.
These fluctuations can affect reaction kinetics and intensity, and are likely to significantly distort results over the time course of an experiment, making it imperative to maintain a consistent temperature throughout the analytical period. It is preferable to work with analytical instruments that provide active temperature control, and can compensate for both external temperature variations and internal heating effects.
In this webinar, participants will discover the benefits of active temperature control, supported by experimental data from cell-based bioluminescent and biofluorescent assays assessing cell viability, metabolism, death and signaling. They will learn how to design assay and signal measurements to generate reliable and reproducible data, and avoid false positives. They will gain an understanding that all chemical reactions, including luminescence and fluorescence assays, suffer from fluctuating temperatures.
The team at Tecan has arranged for two speakers for this event; Dr. Gediminas Vidugiris, a senior automation scientist with Promega Corp., and Dr. Katrin Flatscher, a marketing application specialist for detection with Tecan Austria.
Vidugiris received his doctorate in biochemistry from the Institute of Biochemistry, Lithuania Academy of Science in Vilnius, Lithuania. He has extensive multidisciplinary research and development experience in systems automation, screening, assay development, biochemistry, biophysics, spectroscopy and electrochemistry. Flatscher studied molecular biology at the University of Salzburg, where her work focused on cell biology and immunology research.
LabRoots will host the webinar October 5th, 2017, beginning at 6:00 a.m. PDT, 9:00 a.m. EDT. To learn more about this event, discover the continuing education credits offered, or to register for free, click here.
About Tecan
Tecan is a leading global provider of laboratory instruments and solutions in biopharmaceuticals, forensics and clinical diagnostics. The company specializes in the development, production and distribution of automated workflow solutions for laboratories in the life sciences sector. Its clients include pharmaceutical and biotechnology companies, university research departments, forensic and diagnostic laboratories. As an original equipment manufacturer (OEM), Tecan is also a leader in developing and manufacturing OEM instruments and components that are then distributed by partner companies. Founded in Switzerland in 1980, the company has manu¬facturing, research and development sites in both Europe and North America and maintains a sales and service network in 52 countries. In 2016, Tecan generated sales of CHF 506 million (USD 511 million; EUR 464 million). Registered shares of Tecan Group are traded on the SIX Swiss Exchange (TECN; ISIN CH0012100191).
About LabRoots
LabRoots is the leading scientific social networking website, which provides daily scientific trending news and science-themed apparel, as well as produces educational virtual events and webinars, on the latest discoveries and advancements in science. Contributing to the advancement of science through content sharing capabilities, LabRoots is a powerful advocate in amplifying global networks and communities. Founded in 2008, LabRoots emphasizes digital innovation in scientific collaboration and learning, and is a primary source for current scientific news, webinars, virtual conferences, and more. LabRoots has grown into the world's largest series of virtual events within the Life Sciences and Clinical Diagnostics community.