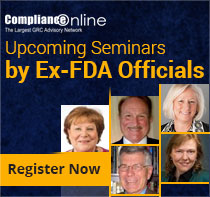 Palo Alto, CA, USA (PRWEB) August 24, 2017
Get the comprehensive list of upcoming seminars by ex-FDA officials.
As manufacturing gets increasingly complex with introduction of new technologies and operating procedures, the regulations have become labyrinthine in their scope as well. Companies now not only have to worry about plants they own, but contract manufacturers, foreign facilities and the headache of ensuring that suppliers/vendors are compliant with regulations. The incremental increase in FDA Form 483s and warning letters show that the agency is becoming increasingly stringent in its inspections of facilities and operations.
Attend these seminars from ex-FDA officials to learn how FDA thinks, operates and where it is headed. The seminars are specifically designed for professionals in pharmaceutical, biotechnology, medical device, clinical research and food manufacturing companies and covered wide range of topics such as:

FDA's New Import Program for 2017
eCTD Submissions of IND and NDA/BLA to the US FDA, EU and Canada
FDA's GMP Expectations for Phase I and First-in-Man Clinical Trials
Systematic Operating Procedures (SOPs) – What's Really Required
FDA's Medical Device Software Regulation Strategy
FDA Scrutiny of Promotion and Advertising Practices
Managing Your FDA Inspection: Before, During and After
The Regulations of OTC Drugs
US Good Clinical Practice (GCP) Regulations and ICH GCP Guidelines
Navigating the Maze for Post-Market Compliance -- Complaint Handling, MDRs, Recalls, etc.
Some of the key speakers (former FDA officials) for these seminar include:

Casper E. Uldriks, Former Associate Center Director of FDA's CDRH
Peggy J. Berry, President& CEO, Synergy Consulting (Ex-FDA Official)
Loren Gelber, Regulatory Compliance Consultant (Ex-FDA Official)
Rita Hoffman, Former FDA CDRH Recall Branch Chief
Bill Schwemer, Principal, Schwemer Consulting and Former Senior FDA & Industry Official
David L. Chesney, General Manager, DL Chesney Consulting, LLC (Former FDA Director)
Here are the recent testimonials from some of our attendees:
"Speaker was very knowledgeable. Glimpses "behind the curtain" in to the FDA are quite valuable in my opinion. ComplianceOnline has a broad catalog of professional advancement opportunities," Manager, Quality Control at Quanterix Corporation.
"The instructor was outstanding and shared great examples which really clarified the application of course material," Sr. VP Operations at Hologic Gen-Probe.
ComplianceOnline will be adding more live in-person seminars to its schedule for 2017, aimed at further cementing its position as the top providers of compliance training for FDA regulated companies. For more information on the 2017 seminars by ComplianceOnline please click here.
About ComplianceOnline:
ComplianceOnline is a leading provider of regulatory compliance trainings for companies and professionals in regulated industries. ComplianceOnline has successfully trained over 55,000 professionals from 15,000 companies to comply with the requirements of regulatory agencies. ComplianceOnline is headquartered in Palo Alto, California and can be reached at http://www.complianceonline.com. ComplianceOnline is a MetricStream portal. MetricStream (http://www.metricstream.com) is a market leader in Enterprise-wide Governance, Risk, Compliance (GRC) and Quality Management Solutions for global corporations.
For more information please contact:
A Reuben Bernard
Associate Director - ComplianceOnline
2479 East Bayshore Road
Suite 200
Palo Alto, CA, 94303
Phone - 650-620-3937/650-620-3915
Fax - 650-963-2556
Mail: reuben(at)complianceonline(dot)com
Website: http://www.complianceonline.com