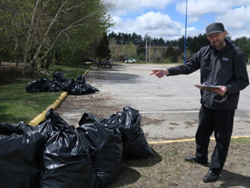 PORTLAND, Maine (PRWEB) August 24, 2017
A volunteer trash cleanup in South Portland, Maine is having a widespread impact in the effort to protect municipal watersheds from unchecked garbage. Portland-based Hydro International, a global supplier of storm water solutions, has released the year-two results of its annual Long Creek Trash Study, combining volunteer effort and private resources to establish a benchmark for the effectiveness of stormwater treatment products in similar environmental conditions throughout the world and to test the efficacy of its own DryScreen® baffle box solution.
According to the study LINK HERE, 65% of all trash collected from the site was plastic, echoing recent studies on plastic pollution, and it demonstrates an accumulation rate of three cubic yards of trash annually. Jeremy Fink, Senior Product Engineer at Hydro International, presented the results to nearly 150 civil and municipal engineers, regulators, and industry professionals from 27 U.S. states and one Canadian province in an online seminar on July 25, 2017.
"Having year on year data enables us to estimate the area's annual trash load is about three cubic yards, roughly the size of three refrigerators," said Fink. "The second study gives us confidence that our DryScreen® would remove about 97% of trash collected during the cleanup."
The first Long Creek Trash Study took place on May 19, 2016 with initial findings published in October 2016. Those findings have since informed the design of Hydro International products currently in development, and are available on Hydro International's website: LINK HERE.
One year later, on May 12, 2017, Hydro International volunteers returned to Long Creek alongside staff from the City of South Portland and the Cumberland County Soil and Water Conservation District and students from the University of Southern Maine's Environmental Science and Policy program to remove trash from the Long Creek's South Branch, near the Maine Mall – the largest shopping mall in the state.
The 2017 study findings and a recording of the webinar are available on Hydro International's website LINK HERE as a resource for engineers, product designers and other professionals in the interest of improving screening efficacy and water quality globally.
About Long Creek
Over a decade ago, the Long Creek, which runs through Westbrook, South Portland, Scarborough and Portland was identified as an urban impaired stream. In 2007, with guidance from the Maine Department of Environmental Protection (DEP) along with funding from the Environmental Protection Agency (EPA) the community came together as part of a restoration project led by a steering committee comprised of the above-mentioned municipalities as well as area businesses and state agencies.
About Hydro International
Hydro International Ltd. is a global supplier of environmentally sustainable solutions and innovative products for the control and treatment of stormwater, wastewater and combined sewer overflows. Hydro's products use a range of advanced technologies including award-winning advanced vortex technology. Headquartered in Clevedon, England Hydro also operates in the UK from offices in Ely, Cambridgeshire as well as across the US from bases in Portland, Maine and Hillsboro, Oregon. The Group has a growing presence outside of its core US and UK markets in Ireland, Egypt, Middle East, European Union, Malaysia, Singapore, Japan, Korea, Australia and New Zealand.
Please visit the website for further information http://www.hydro-int.com.
###