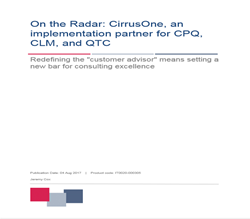 "Enterprises in the U.S. considering CPQ from either vendor should put CirrusOne on their radar as a possible implementation partner with its new set of consulting best practices which is a potential game changer for the professional services industry."
San Francisco, CA (PRWEB) August 24, 2017
Systems Integrator Recognized for Innovative Approach to Delivering Professional Services
CirrusOne, a leading multi-vendor quote-to-cash (QTC) consulting and implementation firm that is redefining the role of the trusted advisor, announced today that Ovum selected the firm for its "On the Radar" report series for its innovative approach to delivering professional services.
The report recognizes CirrusOne's core principles, which the firm adheres to in all of its engagements, as one of the firm's key differentiators and one of the reasons behind its high rate of customer success. Ovum's "On the Radar" report is a series of research notes about vendors bringing innovative ideas, products or business models to their markets.
Highlights from the report include:

CirrusOne helps clients go beyond configure-price-quote (CPQ) to provide a complete QTC solution, including contract lifecycle management (CLM).
The firm is aiming to redefine the role of the trusted advisor with a unique approach to project methodology that provides customers with better odds of success.
Finding and nurturing employees with the right consulting skill sets (not technical) is the starting point for CirrusOne.
"CirrusOne has proven delivery experience with CPQ solutions from Oracle and Salesforce," said Jeremy Cox, Principal Analyst, Customer Engagement, at Ovum. "Enterprises in the U.S. considering CPQ from either vendor should put CirrusOne on their radar as a possible implementation partner with its new set of consulting best practices which is a potential game changer for the professional services industry."
"This recognition from Ovum is a testament to the level of service we are committed to delivering to our customers," said Shane Anastasi, CEO, of CirrusOne. "Our entire organization is dedicated to identifying new ways to improve the probability of success on complex projects and recognition like this helps validate that we are doing something right."
Additional Resources

About CirrusOne
CirrusOne is a leading multi-vendor quote-to-cash (QTC) consulting and implementation firm that enables organizations worldwide to maximize sales efficiency and increase QTC time-to-value. Through its purpose built team of industry thought leaders, architects and developers, CirrusOne offers a complete range of enterprise-grade professional services. CirrusOne is redefining how complex customer solutions are implemented through a proven framework of proactive service delivery. For more information, visit http://www.cirrus.one.
Join CirrusOne on Social Media
LinkedIn: https://www.linkedin.com/company/cirrusone
Twitter: https://twitter.com/CirrusOneCloud
About Ovum
Ovum is a market-leading research and consulting firm focused on helping digital service providers and their technology partners thrive in the connected digital economy. Through its 150 analysts and consultants worldwide, it offers expert analysis and strategic insight across the IT, telecoms, and media industries. Founded in 1985, Ovum has one of the most experienced analyst teams in the industry and is a respected source of guidance for business leaders, CIOs, vendors, service providers and regulators looking for comprehensive, accurate and insightful market data, research and consulting. With 23 offices across six continents, Ovum offers a truly global perspective on technology, communications and media markets and provides clients with insight including workflow tools, forecasts, surveys, market assessments, technology audits, and opinion.
Ovum is part of the Business Intelligence Division of Informa plc, a leading business intelligence, academic publishing, knowledge and events group listed on the London Stock Exchange.
# # #