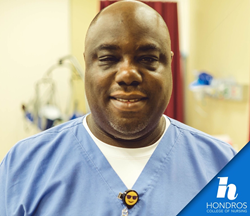 "I think this is where I was meant to be."
Cleveland, OH (PRWEB) August 26, 2017
When Christopher Cargile was considering retirement from the East Cleveland Police Department in June 2015, he wasn't dreaming of sleeping in, playing golf and taking it easy. He was dreaming of a new career.
Cargile didn't waste much time in getting started on this new journey as he turned his June retirement into an end of summer enrollment in Hondros College of Nursing's Licensed Practical Nurse(LPN) program.
Healthcare isn't all that new to Cargile, who started his career as a paramedic before shifting to law enforcement. Now he is back where he says he belongs.
"I think this is where I was meant to be anyways," Cargile says. "It's just taken a while to get here."
Like other students, Cargile is entering a field where there is a true shortage of trained professionals. Employment of licensed practical nurses (LPN) and licensed vocational nurses (LVN) is projected to grow 16 percent from 2014 to 2024, according to the U.S. Department of Labor Bureau of Labor Statistics. That is a much faster rate than the average for all occupations. As the baby-boom population ages, LPNs and LVNs will be needed in residential care facilities and in home health environments to care for older patients.
Currently working as a lab assistant at the college while he completes his studies, Cargile counts among his duties operations of a Sim Lab with Sim Mom - an advanced full-body birthing simulator with accurate anatomy and functionality to facilitate multi-professional obstetric training of birth management, with both manual and automatic delivery modes. With SimMom, students learn to make quick decisions during childbirth with customizable scenarios. During lessons, real-time instructor controls allow scenarios to be adapted and developed to a student's unique learning objectives.
Cargile's work with SimMom will come in handy as he's hoping for a career in obstetrics, emergency or surgery nursing, as well as simulation training. And if he enters obstetrics, he already comes with a lot of experience, having helped deliver 41 babies during his time in law enforcement in East Cleveland.
Cargile is a Cleveland native and single parent who resides in Shaker Heights with his daughter and son.
About Hondros College of Nursing
Hondros College of Nursing educates nurses at five Ohio campuses in Cincinnati/West Chester, Cleveland/Independence, Columbus/Westerville, Dayton/Fairborn and Toledo/Maumee, where students can earn a Practical Nursing Diploma and an Associate Degree in Nursing. Additionally, registered nurses in Ohio and other states can earn a Bachelor of Science in Nursing degree through the online RN-BSN completion program. Hondros College of Nursing is dedicated to its mission, as well as the students, partners, and communities in which they serve. For additional information, please visit hondros.edu.
Hondros College of Nursing is an accredited member of the Accrediting Council for Independent Colleges and Schools, (ACICS), 750 First Street, NE Suite 980, Washington, DC 20002, (202) 336-6780. The Practical Nursing and Associate Degree in Nursing programs are approved by the Ohio Board of Nursing. The baccalaureate degree in nursing program is approved and offered through the Westerville Main Campus and is accredited by the Commission on Collegiate Nursing Education, One Dupont Circle, NW, Suite 530, Washington, DC 20036, (202) 887-6791. Hondros College of Nursing cannot guarantee employment or salary. Hondros College of Nursing is a subsidiary of American Public Education, Inc. (NASDAQ: APEI).