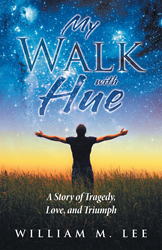 JACKSON, Mich. (PRWEB) August 28, 2017
William Lee's life-threatening accident left him with unexplainable connections and a different level of spirituality, stirring the desire of wanting more of something he could not originally fathom. Compelled to help others see what God has created and how to view the world from a different lens, Lee wrote his first book, "My Walk with Hue."
Lee lived a comfortable life with his family. While preparing to make a treehouse for his children, a slip on a ladder caused him to nearly sever his arm with a chainsaw, leading him to a completely new perspective on life.
"I thought the life I was living was good, but I had no idea what was out there, let alone how to achieve it," said Lee. "After this awakening, I felt like I had a duty to help others."
Following the accident, Lee is guided through his past to reveal four pillars of spirituality and a path of life filled with opportunities. His journey becomes a reflection of God's guiding hand in the most difficult of times as well as the joyous moments.
"My Walk with Hue" is based on real events following a life-threatening accident experienced by the author, leading to a deep spiritual awakening and an unexplainable chain of events.
"My Walk with Hue"
By: William Lee-
ISBN: 978-1-5127-7978-3 (sc); 978-1-5127-7979-0 (hc); 978-1-5127-7977-6 (e)
Available on Amazon, Barnes & Noble and WestBow Press
About the author
William Lee is a marketing representative, artist, and, author. His pride and joy is his wife, Tracy; daughters, Ashley, and Mackenzie; and son, Jacob. Lee and his wife reside in Michigan and love to spend time on Lake Charlevoix. To learn more, please visit http://www.mywalkwithhue.com/.
###
General Inquiries:
LAVIDGE – Phoenix
Bryan Beach
480-306-6554
bbeach(at)lavidge(dot)com