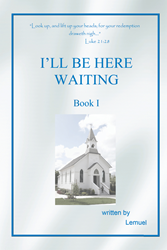 BALTIMORE (PRWEB) August 28, 2017
Serving as book one of three, "I'll Be Here Waiting" by Lemuel is a presentation of life, music, religion, and apocalyptic eschatology — the study of the end of times.
Sunny is a baby boomer born in the leap year of 1948. Israel has once again become a nation after 2,500 years. The story chronologically encompasses Sunny's world travels, with news events, music, religion, and the morality of the times, beginning the revelation of a religious experience.
"To write this story, I needed firsthand experience and a clear understanding of the music industry – I had to be informed on the culture and trends of the era of which I have written," said Lemuel. "Preparing myself to write this character's adventures, I studied many areas of the globe and became intimately involved with various religious beliefs."
"I'll Be Here Waiting" is a story that speaks to the protagonist's convictions right to the end of his life where he is thrust into an amazing discovery.
"I'll Be Here Waiting: Book I"
By Lemuel
ISBN: 9781514456347 (softcover); 9781514456354 (hardcover); 9781514456330 (eBook)
Available at the Xlibris Online Bookstore, Amazon and Barnes & Noble
About the author
Lemuel is an author, composer, singer, and musician. He is also a Christian who has studied the Bible — the history of it, eschatology, and related theologies for more than 40 years. Lemuel started writing when he was 17 years old and attended several colleges and universities where professors respected his talents and encouraged him to enter various state and national contests. To learn more, please visit http://www.illbeherewaiting.com.
Review Copies & Interview Requests:
LAVIDGE – Phoenix
Bryan Beach
480-306-6554
bbeach(at)lavidge(dot)com
General Inquiries:
LAVIDGE – Phoenix
Chris Peña
480-306-7065
cpena(at)lavidge(dot)com