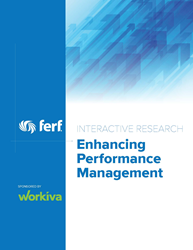 The interactive research paper showcases performance management technology and processes benefits as well as best practices for implementing such tools across the enterprise, starting with financial planning.
MORRISTOWN, N.J. (PRWEB) August 25, 2017
Financial Executives Research Foundation (FERF) today released research showcasing how performance management processes and technology can improve the accuracy of financial forecasting and yield insights that can enhance performance in the finance department and across an organization.
The interactive research paper, "Enhancing Performance Management," sponsored by Workiva (NYSE:WK), a leading provider of solutions for enterprise productivity, defines performance management, showcases compelling benefits of the technology and processes, and underscores best practices for implementing performance management tools across the enterprise, starting with financial planning. The report includes video interviews with leading researchers on performance management technology along with written narratives from financial planning and analysis executives across a variety of industries in North America.
Companies seeking to improve business and financial performance invest in efforts to centralize and enhance business processes, financial reporting, operational monitoring, compliance and forecasting. These performance management initiatives have helped those companies realize a number of benefits, including improved ability to react quickly to changing market conditions and emerging opportunities. However, for many, understanding the use cases for, and best practices in implementing, technology tools to assist with these efforts can be daunting.
"Senior financial executives are looking for new ways to stay informed on the latest tools and information available to help them implement best practices in financial analysis, forecasting and reporting," said Andrej Suskavcevic, CAE, President and CEO of Financial Executives International and Financial Executives Research Foundation. "This report invites them to think strategically about how they may want to implement performance management initiatives and how to avoid common obstacles along the way."
The report prompts senior financial executives to answer several key questions important to considering a performance management initiative including:

Are we measuring the right metrics?
How can we collect and share this data efficiently and effectively?
How can we best use this data across the organization to improve the accuracy of our reporting and our business performance?
Key benefits of performance management highlighted in the research include:
Insights and Performance Improvements: Increases accuracy of financial statements, reduces need for restatements due to mistakes in data capture, minimizes time required to close books, centralizes information for deeper and more effective analysis.
Increased Role in Organization: Allows financial planning and analysis leaders to play larger roles in strategic planning, risk management and decision-making across the organization.
Real-Time Data: Minimizes control issues caused by inadequate month-end accounting close/reporting cycle by enabling decisions to be made on timely information such as ongoing price changes.
Enhancing Collaboration: Improves collaboration between finance, business units, and information technology as the organization works to collaboratively define metrics and analyze results needed to better understand the business.
Process Improvements: Enables process improvements by providing more effective oversight of the work flows and approvals associated with a process such as the financial close.
FERF's "Enhancing Performance Management" report is available online at https://www.financialexecutives.org/Research.aspx.
About Financial Executives Research Foundation, Inc.
Financial Executives Research Foundation (FERF) is the non-profit 501(c)(3) research affiliate of Financial Executives International (FEI). FERF researchers identify key financial issues and develop impartial, timely research reports for FEI members and nonmembers alike, in a variety of publication formats. FERF relies primarily on voluntary tax-deductible contributions from corporations and individuals, and publications can be ordered by logging onto http:// https://www.financialexecutives.org/Research.aspx.
About FEI
Financial Executives International is the leading advocate for the views of corporate financial management. Its more than 10,000 members hold policy-making positions as chief financial officers, treasurers and controllers at companies from every major industry. FEI enhances member professional development through peer networking, career management services, conferences, research and publications. Members participate in the activities of more than 65 chapters in the U.S. and a chapter in Japan. FEI is located in Morristown, NJ, and Washington, D.C. Visit [http://www.financialexecutives.org for more information.
About Workiva 
Workiva (NYSE:WK) delivers Wdesk, an intuitive cloud platform that modernizes how people work within thousands of organizations, including over 70 percent of the FORTUNE 500®. Wdesk is built upon a data management engine, offering controlled collaboration, data integration, granular permissions and a full audit trail. Wdesk helps mitigate risk, improves productivity and gives users confidence in their data-driven decisions. Workiva employs more than 1,200 people with offices in 16 cities. The company is headquartered in Ames, Iowa. For more information, visit workiva.com.