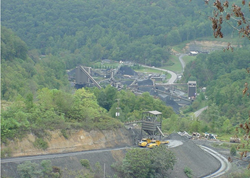 With a reserve size of over four million tons of high quality "high vol" metallurgical coal, we look forward to the potential for this new mine to be a valuable addition to the other metallurgical coal production at McCoy Elkhorn.
Fishers, INDIANA (PRWEB) August 25, 2017
American Resources Corporation (OTCQB: AREC), through its wholly owned subsidiary Quest Energy Inc. and McCoy Elkhorn Coal LLC, has secured additional metallurgical coal reserves within the McCoy Elkhorn Coal operating complex. The coal reserves are in the Upper Alma coal seam and located within ten miles of the company's Bevins Branch coal processing plant and rail loadout.
The coal from this Upper Alma seam will be mined via underground mining methods and the initial stages of permitting has started on the reserve, which is anticipated to go into production in the second half of 2018. Coal from this reserve will be transported to the Bevins Branch processing plant and used as both a blending coal for the company's current metallurgical orders and as standalone sales for existing and future buyers.
"With a reserve size of over four million tons of high quality "high vol" metallurgical coal, we look forward to the potential for this new mine to enhance our other metallurgical coal production at McCoy Elkhorn, namely that from our Mine #15 and Carnegie Mines, "stated Tom Sauve, President of American Resources Corporation. "Furthermore, control of this reserve essentially "unlocks" another four million tons of coal in the same seam that can be accessed from this underground portal we are permitting."
American Resources Corporation will continue to expand production of currently controlled reserves, in addition to identifying and securing high-quality coal reserves in the region to help solidify themselves as one of the largest and lowest-cost producers of metallurgical coal in Eastern Kentucky.
About American Resources Corporation
American Resources Corporation is engaged in diversified energy services including mining, processing and logistics, with a primary focus on traditional energy sources such as coal and oil and gas. American Resources Corporation plans to expand its business by continuing to develop its currently leased properties and further expanding its processing and logistics business, and through the pursuit of strategic acquisitions.
Contact:
Mark LaVerghetta, Director of Corporate Communications
investor(at)americanresourcescorp.com
Special Note Regarding Forward-Looking Statements
This press release contains forward-looking statements. Forward-looking statements involve known and unknown risks, uncertainties, and other important factors that could cause the Company's actual results, performance, or achievements or industry results to differ materially from any future results, performance, or achievements expressed or implied by these forward-looking statements. These statements are subject to a number of risks and uncertainties, many of which are beyond the control of the Company. The words "believes", "may", "will", "should", "would", "could", "continue", "seeks", "anticipates", "plans", "expects", "intends", "estimates", or similar expressions are intended to identify forward-looking statements, although not all forward-looking statements contain such identifying words. Any forward-looking statements included in this press release are made only as of the date of this release. The Company does not undertake any obligation to update or supplement any forward-looking statements to reflect subsequent events or circumstances. The Company cannot assure you that the projected results or events will be achieved.
Source: American Resources Corporation