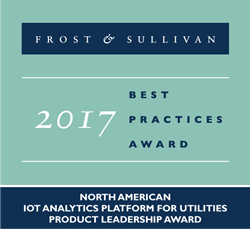 "IoT changes everything," said JoMei Chang, CEO of Vitria Technology, "and real-time analytics are at the core of value creation in the connected world of IoT."
Menlo Park, CA (PRWEB) August 28, 2017
Frost & Sullivan Recognizes Vitria Technology IoT Analytics Platform with Product Leadership Award for Utilities Industry
Menlo Park, CA—28 August 2017—Vitria Technology, Inc., the company that empowers customers and partners to rapidly create value from real-time analytics and automation in the connected world today, announced that Frost & Sullivan, the Growth Partnership Company, has presented Vitria with the 2017 North American IoT Analytics Platform Best Practice Award for Utilities Product Leadership. Vitria's comprehensive IoT analytics platform effectively addresses the industry's need for deriving value quickly through a unique concept called an Analytic Value Chain. This concept is currently redefining IoT analytics by unifying fast data ingestion, real-time streaming analytics, historical analytics, predictive analytics, and intelligent automated action in real time.
"IoT changes everything," said JoMei Chang, CEO of Vitria Technology, "and real-time analytics are at the core of value creation in the connected world of IoT. What network of devices, applications, or processes can't benefit from smarter, faster, and more automated analytic-driven behavior? The real challenge now is how to productize the use of analytics so that companies and solution providers can rapidly apply, execute, and maintain analytic intelligence in a scalable and repeatable way. VIA is the only platform capable of delivering on this vision today. Vitria has been dedicated to analytics innovation and intelligent automation for years, and VIA's scale is proven in large production environments with billions of events per day."
Vitria makes it easy to create and integrate analytic logic into all aspects of a business's operations. The resulting Analytic Value Chain from insight and situational awareness to intelligent automation is a key enabler for digital transformation. The platform uses elastic computing, fast analytics, and machine learning to apply the power of predictive and prescriptive analytics.
"Utilities companies have difficulty translating massive volumes of data into actionable insights so that they can transition towards a real-time operations environment," said Frost & Sullivan Senior Analyst Sankara Narayanan. "Vitria's advanced analytics platform leverages fast data ingestion and integration, open IoT data lake, advanced analytics, visualization, and IoT apps; thus, utility companies can convert large amounts of data generated by smart meters and smart grids into actionable insights, make timely decisions that help to manage their grid, prevent outages, and balance demand and supply, resulting in increased revenue, operational efficiency, and reduced cost across their entire business."
Vitria's platform successfully manages and monitors more than 4 million smart meters for a leading gas and electric carrier that operates in over 200 cities across Europe. The platform currently supports more than 70 million IoT devices.
Such visionary product innovations and a continued focus on research and development have earned Vitria the 2017 Frost & Sullivan Product Leadership Award. Each year, Frost & Sullivan presents this award to the company that has developed a product with innovative features and functionality and is gaining rapid acceptance in the market. The award recognizes the quality of the solution and the customer value enhancements it enables.
About Vitria
Vitria empowers customers and partners to rapidly create value with VIA IoT Analytics and Automation Platform. VIA applies the power of advanced analytics to IoT and real-time scenarios, enabling customers to accelerate initiatives and transform their business. The platform leverages faster analytics, rapid innovation, and smarter action to accelerate better outcomes for the demanding requirements of the IoT era.
VIA executes faster analytics in real-time over all types of data and speeds to provide the context and insight needed for the fast decision-making required in IoT. Smarter actions yield better outcomes by combining predictive and prescriptive analytics with intelligent automated action.
About Frost & Sullivan
Frost & Sullivan, the Growth Partnership Company, works in collaboration with clients to leverage visionary innovation that addresses the global challenges and related growth opportunities that will make or break today's market participants. For more than 50 years, the company has been developing growth strategies for the global 1000, emerging businesses, the public sector, and the investment community.