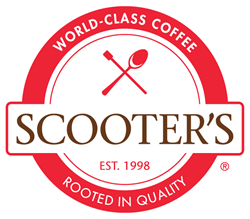 Omaha, Neb. (PRWEB) August 24, 2017
Scooter's Coffee is thrilled to announce its inclusion on the 36th annual Inc. 5000. The list is the most prestigious compilation of the nation's fastest-growing private companies. The Inc. 5000 represents a unique look at the most successful companies within the American economy's most dynamic segment— its independent small and mid-sized businesses.
Scooter's Coffee, the Midwest-based drive-thru coffee franchise that is on track for another record-breaking year of growth, specializes in hand-tamped espresso drinks, homemade pastries and features the signature drink, the Caramelicious. "We enthusiastically and humbly accept this recognition from a foremost leading business industry publication," says Rob Streett, President and Chief Operating Officer of Scooter's Coffee. "A 65% growth rate these past three years is a testament of the hard work and dedication of our employees. We are committed to building on our growth through the excellent service and products our loyal customers across the country have grown to depend."
The 2017 Inc. 5000 is ranked according to percentage revenue growth when comparing 2013 to 2016. To qualify, companies must be U.S.-based, privately held, for profit and independent, and not subsidiaries or divisions of other companies. "The Inc. 5000 is the most persuasive evidence I know that the American Dream is still alive," says Inc. President and Editor-In-Chief Eric Schurenberg. "The founders and CEOs of the Inc. 5000 tell us they think determination, risk taking, and vision were the keys to their success, and I believe them."
To view Scooter's Coffee in the full ranking, visit: http://www.inc.com/profile/scooters-coffee.
About Scooter's Coffee
Founded in 1998 by Don and Linda Eckles in Bellevue, Nebraska, Scooter's Coffee roasts only the finest coffee beans in the world at its headquarters in Omaha, Nebraska. In nearly two decades of business, Scooter's Coffee's success is simple: stay committed to the original business principles and company core values. The Scooter's Coffee Brand Promise, often recited to franchisees, customers and employees is: "Amazing People, Amazing Drinks...Amazingly Fast!"™ It represents the company's business origins from 1998 and reflects a steady commitment to providing an unforgettable experience to loyal and new customers.
For more information, visit: scooterscoffee.com, facebook.com/scooterscoffee, or ownascooters.com.