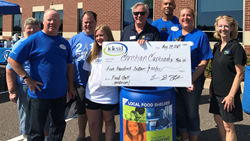 This year's Community Appreciation event was a great way to celebrate 91 years of service to our members and our local communities, and thank them for their support and for doing business with our credit union. - Ideal CU President/CEO Brian Sherrick
Woodbury MN (PRWEB) August 25, 2017
Ideal Credit Union celebrated its 4th Annual Community Appreciation week by giving away $1,000 a day to one lucky grand prize winner over the course of the 6 branch, 6 day event, and another $3,000 total to 6 local community food shelves that reside within Ideal's 6 branch locations. To better accommodate busy schedules, Ideal added evening hours at its two newest branches, and a Saturday celebration in Woodbury. Attendees enjoyed over 2,200 hot dogs, fun and a chance to give back to our local communities.
Hundreds turned out each day to "Spin to Win" for great prizes and a chance to win $1,000. To play Spin to Win, attendees age 18 and older simply entered their name and valid email address into an interactive game loaded on an iPad, and the game revealed their prize. Best of all, everyone was a winner! Daily $1,000 grand prize winners were chosen at random and notified by Ideal's Marketing Department.
Hugo's winner was Carolyn Burggraff, who along with husband Ralph joined the credit union in 1991 and are VIP+ members. The Inver Grove Heights winner, Pam Karis-Johnson, received the winning notification while throwing her mom's 90th birthday party, which made the day even more special.
North St. Paul's winner, Mary Kay Evans, a 30 year VIP+ member, loves Ideal and the wonderful service she and her family have received through the years. Other $1,000 grand prize winners were VIP+ member Kevin Czepa in Eagan, Theresa Robitaille in Stillwater and Nancy Sonnee in Woodbury.
Since 2013, Ideal Credit Union has paid out over $2.6 million in earnings to VIP+ members to thank them for their business and loyalty. While many other financials are driven by profits, Ideal's VIP+ program returns earnings back to its members. Members who reach VIP+ status also receive a host of additional benefits and free services throughout the year.
Ideal held a special balloon release during the celebration in North St. Paul on August 17th
in honor of David Riggs, an employee, friend and co-worker who died after being hit by a distracted driver in August of 2013, as part of its month-long "Stop the Texts, Stop the Wrecks" don't text and drive awareness campaign. The campaign highlights the dangers of distracted driving and encourages the public to take a pledge to put the phone away when they get behind the wheel.
By taking the pledge, drivers agreed to not text while operating a vehicle, keep their eyes on the road at all times and encourage others to help end distracted driving. In addition to the balloon release, Minnesota Governor Mark Dayton issued a proclamation making August 17 "David Riggs Distracted Driving Awareness Day."
As an active community partner, Ideal CU is encouraged attendees to bring a nonperishable food item to donate to local food shelves and gently used coats for the Salvation Army Coats for Kids drive. The Ideal Community Foundation presented checks to local food shelf representatives at each branch during the celebration to help feed our hungry neighbors. The recipients were the Hugo Good Neighbors Food Shelf in Hugo, The Open Door in Eagan, Neighbors, Inc., in Inver Grove Heights, the North St. Paul Emergency Food Shelf in North St. Paul, Valley Outreach in Stillwater and the Christian Cupboard in Woodbury.
Ideal's Community Appreciation event week, which started in 2014, has been a big hit with members and the community at large. "This year's Community Appreciation event was a great way to celebrate 91 years of service to our members and our local communities, and thank them for their support and for doing business with our credit union," said Ideal CU President/CEO Brian Sherrick. "The event also gave us an opportunity to showcase our commitment to giving back by making donations to local food shelves and collecting coats for kids."
Founded in 1926, Ideal Credit Union is a member owned financial institution that specializes in providing excellent member service, great rates and convenience to over 50,000 members. Ideal CU offers a complete range of services, including a full suite of electronic banking products, savings, checking, loans, mortgage products and title services, exclusive VIP member payback, business services, investment services and more. Offices are located in Eagan, Hugo, Inver Grove Heights, North St. Paul, Stillwater and Woodbury. Visit idealcu.com for details and directions.