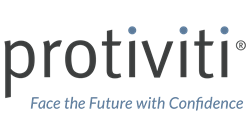 Chicago, Illinois (PRWEB) August 28, 2017
At SharePoint Fest Chicago, an exclusive SharePoint and Office 365 technology conference, attendees will learn from the brightest minds in the SharePoint universe!
SharePoint Fest Chicago will begin with two days of pre-conference workshops on December 5 and 6, 2017, followed by a two-day conference (including an expo hall) on December 7 and 8, 2017. Be sure to stop by the Protiviti booth to see why they believe that by teaming together, with each other, and their clients, they can see beyond the surface of changes and problems organizations face in this fast changing world to discover opportunities others might miss and face the future with greater confidence!
About Protiviti
Protiviti's SharePoint Solutions provides consulting, support and training service expertise to help clients unlock the full business potential of Microsoft SharePoint. Protiviti is a global business consulting and internal audit firm composed of experts specializing in risk, advisory and transaction services. We help solve problems in finance and transactions, operations, technology, litigation, governance, risk and compliance. Through its network of more than 70 offices in over 20 countries, Protiviti has served more than 35 percent of FORTUNE® 1000 and Global 500 companies. To learn more about Protiviti's SharePoint Solutions, visit SharePoint.Protiviti.com or call 888.603.0304.
Web Site: http://sharepoint.protiviti.com
About SharePoint Fest
SharePoint Fest is in its seventh year. It offers a two-day conference (with two optional pre-conference workshop days) that brings together SharePoint enthusiasts and practitioners, with many of the leading SharePoint experts and solution providers in the country.
Attend SharePoint Fest Chicago where attendees will be able to attend workshops and seminars – taught by Microsoft Certified Trainers, Microsoft engineers, and Microsoft MCM's and MVPs – covering Enterprise Content Management, Implementation/Administration, Business Value, Search, Business Intelligence, Office 365 and SharePoint Development. Attendees will be able to choose one complete learning track or mix and match based on what content best meets their current needs.
At SharePoint Fest Chicago, there will be sessions created for SharePoint administrators, software developers, business analysts, information architects, and knowledge workers, which will ensure that attendees walk away with as much knowledge as they desire to truly
leverage SharePoint in their current environment.
Web Site: http://www.sharepointfest.com/Chicago