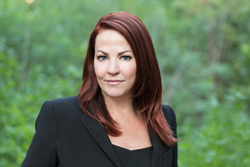 Austin, Texas (PRWEB) August 28, 2017
The law firm Traverse Legal is expanding once again with the addition of attorney Lia Smith to its Austin, Texas Office, which does business as Hall Law. A graduate of Duke University School of Law and former associate attorney at Am Law 100 firms in both Silicon Valley and Austin, Lia adds experienced and tested talent to the growing law firm. Lia's practice has historically focused on Intellectual Property licensing, transactions and litigation, drawing upon her core understanding of complex technology from having earned a Computer Science degree. She has represented technology, Internet, entertainment, media, gaming and consumer product companies ranging from start-ups to Fortune 100 companies with a variety of business law needs.
Brian A. Hall, Managing Partner in Austin, said "Lia fits in perfectly with our firm, possessing the rare combination of Intellectual Property and Business law capabilities. Given her nuanced experience and proven record of getting deals done efficiently, Lia can immediately serve our clients, existing and prospective alike. As a result, we can continue to provide more timely, cost-effective and strategic representation, while strengthening our relationships with clients as outsourced counsel." Lia is expected to focus on intellectual property and corporate transactional matters, including licensing, strategic collaborations, commercial transactions, real estate, private equity, company formations, and corporate governance.
Traverse Legal, PLC d/b/a Hall Law is a law firm dedicated to founders, start-ups and emerging growth companies. With both transactional attorneys and litigators, the national firm focuses on Intellectual Property, Technology, Internet and Business Law. We utilize client and fee friendly models in order to deliver advice and counseling that has successfully served clients just like you with problems just like yours. Whether we are acting as outsourced technology counsel and managing your IP portfolio, as general counsel or as your litigation team, Traverse Legal has the experience necessary to achieve your goals.
# # #
If you would like more information, please contact Brian A. Hall or visit http://www.traverse.legal