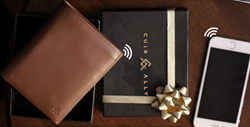 Strong positive reviews from 6500+ beta customers in just 7 months of the brand's launch is a testament to our product quality and delivery guarantee.
Chennai, India (PRWEB) August 24, 2017
The Voyager Smart Wallet is designed to make the commonly faced problem of lost wallets, a thing of the past with the integration of smart technology. Cuir Ally, the team behind the Voyager Smart Wallet have just launched their campaign on Indiegogo in hopes to raise $35,000 in order to bring their product to the global market. The Voyager Smart Wallet is made from premium full grain leather retaining the feel of traditional luxurious leather wallets while integrating technology unobtrusively.
The Voyager Smart Wallet works seamlessly to ensure that the user is able to track both their phone and wallet at all times. The wallet is integrated with Chipolo technology giving it an array of smart features. If a user's wallet is lost, they are able to ring the wallet to find it if it is close by. If their wallet was left behind, users are able to see it's last seen location through Chipolo iOS or Android app or website. Chipolo technology works the other way around also. If someone were to lose their phone and it was connected to the wallet via Bluetooth, they would be able to either ring the phone or find where it was last seen. The wallet also acts a selfie remote by aiding in taking pics on smartphones through a simple double press of it.
"We tan our own leather in our own tanneries and manufacture it in factories located just 20Km of our office location thus having end to end control over supply chain and production. By doing all of this ourselves, it allows us to cut a lot of intermediate costs that we then get to pass on to the customers," said Sathyaraj, Head of Operations at Cuir Ally. "Strong positive reviews from 6500+ beta customers in just 7 months of the brand's launch is a testament to our product quality and delivery guarantee. To keep up with the promise to deliver the smart wallets to all Indiegogo backers within 4 weeks of campaign end date we shall be starting production a week into the campaign & have already partnered with DHL, who are market leaders in the shipping business."
The Voyager Smart Wallet is not just about smart technology but also about clever design thus offering a lot of extra features that the average wallet doesn't offer. The frequent traveler can benefit from the passport sleeve in the wallet that is the perfect size to hold up to two passports. For someone who travels less frequently, that space could be taken up by a small Voyager notepad, provided along with the wallet for everyday note taking. There is even a sleek metallic pen integrated with the wallet. The Voyager Smart Wallet can hold an entire boarding pass, all international currencies, all the necessary cards, a SIM card & SIM removal tool. The beauty of the Voyager Smart is that it effortlessly doubles up as a travel wallet but slim and small enough to fit in pant pockets.
Currently, the Voyager Smart Wallet is only available on Indiegogo. Early adopters can pre-order the wallet for a super early bird price of just $49 in three colors, black, brown and legion blue. The Cuir Ally team is expecting to release another 8-10 smart products during the course of the year. Sathyaraj concludes by saying, "Unlike our competitors our focus is not just on smart wallets but an entire category of leather goods, we are in it for the long run with an aim to establish Cuir Ally as a truly affordable luxury brand. Being true to that our prices are 40% of our competitors' prices which is essentially what we save by cutting the intermediate costs & middlemen." For more information, visit bit.ly/VoyagerIGG.
About Cuir Ally
We, at Cuir Ally, are redefining the way things are carried. Our products are designed around what it needs to carry and not the other way round. This ground up, minimalistic design approach has helped us eliminate the clutter and focus on what's important: to give customers products which speak for themselves. Always know, when it comes to leather, we are the best ally. Learn more at bit.ly/VoyagerIGG.