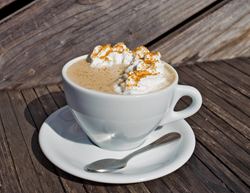 Half Moon Bay, California (PRWEB) August 24, 2017
With "Pumpkin Spice Latte (PSL) Season" upon us, The Ritz-Carlton, Half Moon Bay has invited Verve Coffee Roasters – a Santa Cruz-based coffee company focused on providing the finest coffees on earth from Farmlevel to Streetlevel – to create the ultimate pumpkin spice drink for hotel guests and visitors this coming fall. This one-of-a-kind beverage – named Pumpkin Patch Spice – will debut on the first day of fall (September 21, 2017) and will be available exclusively at the oceanfront resort throughout the autumn season.
A whimsical nod to the luxury resort's location in Half Moon Bay, California – located 30 minutes south of San Francisco on the coast and famously known as the "Pumpkin Capital of the World" – this seasonal drink elevates the irresistible, American favorite through the creativity of the talented team at Verve into one cup. The Pumpkin Patch Spice is made with a special blend of premium Verve coffee, sweet pumpkin flavors from farm-fresh Half Moon Bay pumpkins, spices, and fresh milk. Verve's freshly made whipped cream and Verve's signature Spiced Mexican "Chocolate Sprinkles" top off the hand-crafted drink. Pumpkin-infused sweets and small bites – hand-crafted by the culinary team at The Ritz-Carlton, Half Moon Bay – will also be available for pairing.
The Pumpkin Patch Spice will be served exclusively at The Ritz-Carlton, Half Moon Bay at Ocean Terrace – the resort's premier outdoor dining area featuring cozy fire pits and picturesque ocean views – from noon to sunset, should weather conditions allow. Complete with premium blankets and ideal for cliffside sipping, guests can savor the best of pumpkin season while taking in the resort's unparalleled views, lush greenery, and watercolor skies. Complemented by the crisp ocean breeze and melodic sounds from the resort's very-own Sunset Bagpiper, guests can create their own perfect coffee moment on the coast.
In addition, The Ritz-Carlton, Half Moon Bay is offering a "Pumpkin Experience Package" to celebrate the great gourd. This package includes:

Overnight accommodations
Half Moon Bay Pumpkin Facial (80 minutes)
This signature treatment utilizes a nourishing pumpkin enzyme masque from a 100% natural plant-based line high in beta carotene and vitamins A and C. Enjoy the ultimate skin care experience that leaves skin smooth, plump and hydrated.

Welcome pumpkin pastry amenity in guest room
Valet parking and resort fee per night
Available from September 5 through October 31, 2017, starting at $1,139.00 per night.
To make a reservation or learn more about The Ritz-Carlton, Half Moon Bay, please call (650) 712-7000 or visit http://www.ritzcarlton.com/en/hotels/california/half-moon-bay.
###
About The Ritz-Carlton, Half Moon Bay
Set atop a rugged bluff overlooking 50 miles of pristine California coastline, The Ritz-Carlton, Half Moon Bay is a 261-room spa and golf resort offering a relaxing and romantic setting. As the San Francisco Bay Area's only oceanfront resort, the timeless estate provides guests with a relaxed yet refined experience for a romantic getaway. For more information, please contact The Ritz-Carlton, Half Moon Bay at 650-712-7000. For room reservations, contact your travel professional, visit ritzcarlton.com/HMB or call Ritz-Carlton worldwide reservations at 800-241-3333. Visit ExperienceHalfMoonBay.com to learn more about the destination.
About The Ritz-Carlton Hotel Company, LLC
The Ritz-Carlton Hotel Company, L.L.C., of Chevy Chase, MD., currently operates more than 90 hotels in over 30 countries and territories. More than 40 hotel and residential projects are under development around the globe. The Ritz-Carlton is proud to offer The Ritz-Carlton Rewards® in which members can link accounts with Marriott Rewards® and Starwood Preferred Guest® for instant elite status matching and unlimited points transfer. For more information or reservations, visit the company web site at http://www.ritzcarlton.com, for the latest company updates, visit news.ritzcarlton.com and to join the live conversation, use #RCMemories.
About Verve Coffee Roasters
Colby Barr and Ryan O'Donovan founded Verve Coffee Roasters in 2007. Based in Santa Cruz, California, the team is invested in every aspect of their coffee from Farmlevel (buying coffee) to Streetlevel (serving coffee in its cafes) including green coffee buying, roasting, and all training. They are committed to serving the best coffees with the most welcoming quality experiences. The independent coffee company currently has 9 café locations (4-Santa Cruz, 3-Los Angeles, 1- San Francisco, 1- Tokyo). http://www.vervecoffee.com @vervecoffee
Photos available upon request.