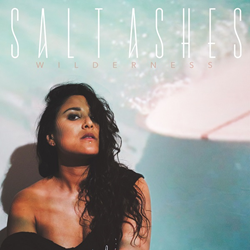 New York, NY (PRWEB) August 25, 2017
Fast rising UK electronic singer-songwriter Veiga Sanchez aka Salt Ashes has released a music video for "Wilderness," the new single from her self-titled debut album released last year. The "Wilderness" music video captures a reckless and tumultuous relationship of a madly in love couple, played by Veiga Sanchez and Justin Bravo. The music video was directed and filmed by 'A Rooted & Toma Productions,' and premiered on Salt Ashes Vevo Channel on Friday, August 25, 2017.
Filmed in Faro, Portugal, the Bonnie and Clyde inspired "Wilderness" music video was mostly filmed on handheld cameras, the outcome being an honest depiction of reckless love, exposing imperfections and the reality of the relationship. Asked about the meaning behind the single, Salt Ashes stated, "Wilderness is about only needing love to fulfill you, the kind of love that is crazy, reckless and all consuming. It's about not holding back and having no regrets."
"Wilderness" can be found on Salt Ashes eponymous album and is the follow-up to Salt Ashes extraordinary 2016 Single "Save It," which received rave reviews from music publications such as Record of the Day, Idolator, Clash, and more. The single charted on Billboard Magazine's Dance Club Chart, Music Week's Club Charts (Upfront Club Chart Top 40 and Commercial Pop Top 30), and Kings of Spins Top 20 Chart.
"Wilderness" fits perfectly with the theme of Salt Ashes' eponymous debut album, as the album takes listeners on a journey through love, loss, heartbreak, finding and losing yourself. The "Salt Ashes" album is available for purchase in record stores nationwide, on Amazon, iTunes, Bandcamp, Google Play, and in the Radikal Records web-store. It is also available for streaming on Spotify.
Watch Salt Ashes' "Wilderness" music video on YouTube or Vevo.
About Radikal Records:
Established in 1990, and based just outside of NYC, Radikal Records is one of the United States' leading independent record labels. In business for more than 20 years, they are focused on marketing, promoting, and distributing artists – not only to audiences in the USA, but also on a global basis to partners world-wide. Artists included on their roster over the years include: 2 Unlimited, N-Trance, Zombie Nation, ATB, Yello, Scooter, Schiller, Blank & Jones, Cosmic Gate, Sinead O'Connor, Voodoo & Serano, and many others. For more information visit: http://www.radikal.com