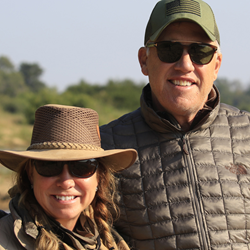 "The quietness was tremendous. The landscape and all of the animals was just a bonus." - John Elway
Denver, Colorado (PRWEB) August 29, 2017
In June, 2017, guests at the Cuvée South Africa Gala were personally invited to participate in one-of-a-kind experiences in both Cape Town and Singita's Private Game Reserve in the Sabi Sand. Every activity was curated to touch people's minds and hearts, and establish an abiding connection to the country, its people and its environment.
The Cuvée Gala aimed to bring community leaders together, no matter their background, beliefs or industry. Attendees featured a wide-range of high-profile leaders with varied backgrounds, including Denver International Airport and Sports Authority Field at Mile High Chief Architect, Curtis Fentress, and his wife, Agatha Kessler; President and CEO of One Thousand and One Voices, Hendrik Jordaan; and two-time Super Bowl Champion, NFL Hall of Famer and President of Football Operations and General Manager of the Denver Broncos, John Elway, along with his wife, Paige, and two of his children.
"Even though we saw a ton of animals, I loved just sitting in the truck and riding in the bush early in the morning. The quietness was tremendous. The landscape and all of the animals was just a bonus," Elway said. "Cuvée and their entire team did a tremendous job. Everything was seamless and it really was a tremendous trip."
Larry Mueller, Cuvée's Founder and CEO, created the annual Cuvée Gala seven years ago to "move people out of their comfort zones, and get them into activities they might not think of doing on their own."
For example, arrangements were made for the group to go on a private excursion to Robben Island with a guide who was a fellow inmate during Nelson Mandela's incarceration. Guests were deeply affected as they shared those intimate spaces where Mandela turned the fortunes of his life, and those of his entire nation, for the better.
While exploring Cape Town guests enjoyed the luxurious amenities of the Silo Hotel, reserved for the exclusive use of Cuvée guests during their stay. Guests also enjoyed extraordinary dining experiences at the finest restaurants in town, including Overture, The Pot Luck Club, La Colombe and others.
After a private charter flight transported guests from Cape Town to the Sabi Sand, Cuvée guests checked into the award-winning Singita Lodges: Ebony and Boulders. Daily game drives with professional trackers took them on a tour of "Big Cat Country" in Singita's Private Reserve and the experience was truly unforgettable.
Additional Cuvée curated experiences included:

Chapman's Peak Drive up the coast to Cape Point via WWII side car, jeep or convertible
Shark Cage Diving at Seal Island
Private Wine Tastings via Helicopter
Visiting the rural village of Justicia where they were greeted with songs from the local pre-school children
People come together through Cuvée's Galas and make lifetime connections. "We have multiple examples of families that didn't know each other, and who are now close friends," says Susan Farrugia, Cuvée's Co-Founder and Partner. "[In South Africa] we got to know a couple at the Gala and we watched them become engaged right in front of us. We all had tears of happiness in our eyes. We also had a 60th birthday to celebrate together. They were touching moments."
About Cuvée: Cuvée is a luxury travel and lifestyle brand with an international collection of exclusively owned and managed residences in the most sought after destinations in the world. Each home owned or managed by Cuvée features an Experience Curator team that is dedicated to the guests to curate personalized experiences. Cuvée collects surveys from over 98% of guests and receives a 4.92 out of 5 stars in the five key areas measured, which is the highest satisfaction rating in the industry.
Media Contact: Courtney Smith, Office: 720.708.2200 | Cell: 720.512.8017
courtney(at)cuvee(dot)com | http://www.cuvee.com/