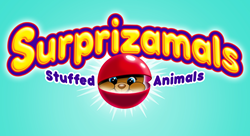 Santa Clarita, CA (PRWEB) August 25, 2017
Beverly Hills Teddy Bear Company, the makers of one of the Top Toys of 2017 Surprizamals, has just announced its next series, Surprizamals: Mama & Baby. Being one of the first plush lines to enter the blind capsule space, Surprizamals has been an international success for Beverly Hills Teddy Bear Company. Fans around the world have joined in on the Surprizamals fun to collect, trade and love their new surprise pop out play friends.
"We are so thrilled to announce our newest release of Surprizamals. It's nothing like what our fans have seen before," said David Socha, Chief Executive Office, Beverly Hills Teddy Bear Company. With each Mama comes three Cuties, all of which are limited edition. Just like all the other Surprizamals, each Cutie comes in a 2.5" Surprizaball, so you never know which three you'll get.
The Mama & Baby Surprizamals are availbale now!
About Beverly Hills Teddy Bear Company:
BHTB Co. is a full spectrum manufacturer that specializes in custom, private label and licensed toys, gifts and plush for both in-line retail sales and strategic promotions. For over 20 years, BHTB Co. has partnered with established companies worldwide to design, create and manufacture safe, high quality merchandise designed to work across all channels of trade.