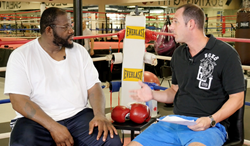 I don't know, I have never been knocked out!
Hollywood, Florida (PRWEB) August 25, 2017
Patrick Zarrelli publisher of VideoGod.com sits down to talk boxing with two time World Heavyweight Champion and Boxing Hall of Fame member Riddick "Big Daddy" Bowe. The interview focuses on the upcoming boxing Super Fight between Floyd "Money" Mayweather and Conor "The Notorious" McGregor. The Super Fight is scheduled for this Saturday night, August 26th, 2017. At the T-Mobile Arena in beautiful Las Vegas Nevada.
Topics discussed in this Video God Sports interview with professional boxing legend Riddick Bowe include Floyd Mayweather's age, experience, and lack of knock out power. As well as Conor McGregor's youth, lack of cardio, and inherent knock out power. Also discussed are the differences between boxing and mixed martial arts and how it may affect the Super Fight. Topics like the length of each round, number of rounds in the overall fight, and of course the drastic difference in glove weight and size are all covered.
There is also a great moment in sports interview history when Bowe answers Zarrelli's question about being knocked out in sparring, by saying "I don't know, I've never been knocked out! Absolutely classic answer from the iron jawed former champion, who was never knocked out during his long and storied career in boxing ring. A career that includes a couple absolute boxing wars with another professional boxing legend named Evander Hollyfield.
The in ring interview wraps up with Bowe giving his predictions on who will win the Super fight this Saturday. He even goes as far as to say how the fight will end, and in what round it will end! Bonus for the sports gossip junkies out there, Bowe also says that he thinks the internet rumor started by pro boxer Jessie Vargas, that McGregor was knocked out during sparring in practice, is "highly unlikely." See the full interview that's available for embed and reuse on YouTube for yourself, and then let us know if your think Bowe's predictions are right in the comments on YouTube!
This has been Video God Sports interview.
Interviewee: Riddick Bowe
Interviewer: Patrick Zarrelli
See the Full Interview: Riddick Bowe Interview