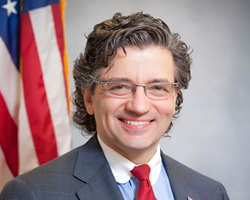 (PRWEB) August 25, 2017
President of the American Islamic Forum for Democracy (AIFD) and co-founder of the Muslim Reform Movement, Dr. M. Zuhdi Jasser, expressed disappointment at President Trump's "business as usual" approach to extremism in his speech on Afghanistan and terrorism on Monday, August 21st.
Dr. Jasser states, "I approached [Trump's] speech with some hope that he would introduce a plan to fight the root cause of violent jihadi terror, Islamism. Unfortunately, he did exactly the opposite: vowing a bold military approach without the on-the-ground work to defeat radical ideology at its source."
Rather than a full throated condemnation of Islamism, the totalitarian theo-political ideology behind violent jihadi terror, the speech was merely a commitment to more military action: something that is no doubt often necessary, but that is not the solution to the root cause of Islamist violence.
"This is both troubling and dangerous. To commit to only military action without a holistic approach to Islamism is like arresting a drunk driver and dropping him off at the bar... Without the muscular liberalism required to support reformers and squash Islamism, the threat of Islamist violence will never vanquish," he concludes.
A devout Muslim, Dr. Jasser founded AIFD in the wake of the 9/11 attacks on the United States as an effort to provide an American Muslim voice advocating for the preservation of the founding principles of the United States Constitution, liberty and freedom, through the separation of mosque and state. Dr. Jasser is a first generation American Muslim whose parents fled the oppressive Baath regime of Syria in the mid-1960's for American freedom.
He is leading the fight to shake the hold that the Muslim Brotherhood and their network of American Islamist organizations and mosques seek to exert on organized Islam in America.
+++++++++++++++++++++++++++++++++++++++++++++++++++++++++++++++++++++++++++++++++++++++++++++++++++++
Dr. M. Zuhdi Jasser also published recently an article in Asia Times entitled "Radical Islam: We Must Talk About More Than Just ISIS." It can be read here: http://www.atimes.com/radical-islam-must-talk-isis//