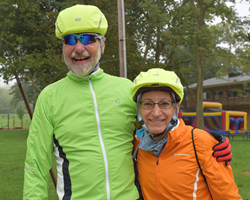 Mishawaka, IN (PRWEB) September 06, 2017
Center for Hospice Care is excited to be hosting its 9th annual Bike Michiana for Hospice cycling event in partnership with the Bike Michiana Coalition. This year's ride takes place on Sunday, Sept. 17 at St. Patrick's park in South Bend. Registration is $60 per adult and is open online until 5:00pm on Friday, September 15. Onsite registration begins at St. Patrick's park at 7:00am Sunday, September 17.
This year's ride again features family-friendly ride options (3.5-11.1 miles), as well as a 25, 66, 82, or 102-mile option. Known for its great SAG stop food, this year's event will keep the tradition going. Local restaurants Yesterday's, Tapastrie, Moser's, Lasalle Grill, Uptown Dining Group and Froehlichs will be participating.
For more information, please visit bikemichianaforhospice.org or foundationforhospice,org.
About Center for Hospice Care and the Hospice Foundation
Established in 1978, Center for Hospice Care is an independent, community-based, not-for-profit organization, improving the quality of living through hospice, home health, grief counseling, and community education. With offices in South Bend, Plymouth, Elkhart and Mishawaka, CHC serves Elkhart, Fulton, Kosciusko, LaGrange, LaPorte, Marshall, Porter, St. Joseph and Starke counties in Northern Indiana.
The Hospice Foundation is committed to supporting the work of CHC through community outreach and education, fundraising activities and other special events. The Foundation helps CHC keep its 37-year promise that no one eligible for hospice services will be turned away, regardless of their ability to pay.