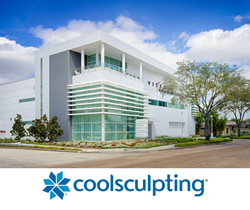 Houston, TX (PRWEB) August 25, 2017
Mirror Mirror Beauty Boutique is proud to announce that they have performed more than 500 CoolSculpting procedures. With providers trained at the prestigious CoolSculpting University, Mirror Mirror Beauty Boutique is considered one of Houston's top CoolSculpting providers. To date, over 3,000 CoolSculpting cycles have been completed.
CoolSculpting is the country's most popular, noninvasive fat reduction system. Based on the science of Cryolipolysis, CoolSculpting damages targeted fat cells using extreme cool temperatures, providing permanent results. Cleared by the Food and Drug Administration, CoolSculpting is a safe method of fat elimination, reducing fatty tissue by up to 20-25%. Clinically proven to selectively reduce fat bulges in problem areas, Mirror Mirror Beauty Boutique's CoolSculpting treatments reduce unwanted fatty tissue without any downtime or chance for complications.
Houston's Mirror Mirror Beauty Boutique is a luxurious space, offering CoolSculpting treatments in a spa-like setting. With four CoolSculpting machines, patients have the option of DualSculpting™, treating two areas at one time. Both upper arms, inner/outer thighs, flanks, or bra and back fat can successfully be addressed during the comfortable, 35-minute procedure. Along with easy, off-the street parking, plus free Wi-Fi and Netflix, Mirror Mirror Beauty Boutique strives to ensure patients feel pampered throughout their CoolSculpting process.
Mirror Mirror Beauty Boutique's founder, Paul Vitenas, MD, FACS, opened the medispa in 2014, when he relocated his surgical practice to the new, custom-built facility on Houston's Richmond Avenue. Here, Dr. Vitenas has the opportunity to bring patients a range of cutting-edge, noninvasive techniques, such as CoolSculpting. He explains, "CoolSculpting is a revolutionary, new technology that is going to change the face of plastic surgery." Along with other nonsurgical techniques, Dr. Vitenas expects the demand for CoolSculpting to continue to grow dramatically over the coming years.
Find out more about CoolSculpting by contacting Houston's Mirror Mirror Beauty Boutique at 832.975.0604. Private consultations are free. Speak with a patient coordinator or fill out Mirror Mirror Beauty Boutique's online Contact Us form. Located at 4208 Richmond, Mirror Mirror Beauty Boutique is directly inside of the 610 Loop, blocks away from luxury shopping at the Houston Galleria.