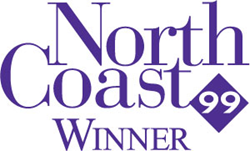 "This award is a true testament to the hard work put in by so many at World Synergy to develop the culture we have today"
Cleveland, Ohio (PRWEB) August 28, 2017
World Synergy® has been recognized with ERC's NorthCoast 99 Award as one of Northeast Ohio's 99 best places to work in 2017.
NorthCoast 99 is an annual recognition program that honors 99 great workplaces for top talent in Northeast Ohio. The program focuses on great places to work for top performing people that drive results, provide competitive advantages, and allow businesses to innovate and grow.
"This award is a true testament to the hard work put in by so many at World Synergy to develop the culture we have today," says Glenn Smith, World Synergy CEO. "As our team and footprint continues to grow, finding the right people who believe in our core values, fit our culture, and strive to move our company forward is a huge part of our growth strategy."
World Synergy's employee benefit structure has stayed competitive over the past 20 years by offering a multitude of benefits for employees, including: 401(k), healthcare benefits and health savings accounts, competitive PTO, skills training and individual development opportunities, and much more.
NorthCoast 99 is presented by ERC, the area's leading professional services organization dedicated to HR. Applicants are evaluated based on policies and practices related to the attraction and retention of top performers, as well as data collected from employee surveys. This award is a representation of how well World Synergy compares to other organizations in Northeast Ohio for treating their employees across a number of areas, including challenging and meaningful work, compensation and benefits, and work/life balance.
"We're extremely honored to recognize the 2017 NorthCoast 99 winners. These organizations have earned the right to call themselves a great workplace by their dedication to attracting, supporting, retaining, and motivating their Top Performers. ERC developed the NorthCoast 99 program with the hopes of inspiring local leaders to promote the great workplace movement," comments Pat Perry, President of ERC.
The annual NorthCoast 99 awards event to recognize this year's recipients will be held Tuesday, September 26th, 2017. The list of winning organizations can be found at http://www.northcoast99.org.
About NorthCoast 99:
NorthCoast 99 is an annual recognition program that honors 99 great workplaces for top talent in Northeast Ohio. The program is presented by ERC (http://www.yourerc.com). ERC helps organizations create great workplaces by providing HR resources, training, and consulting services.
About World Synergy:
World Synergy offers integrated business services with a unique combination of Marketing, Applications, and Technology services created specifically for owners and executives.