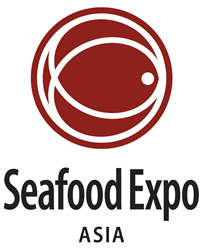 Seafood professionals attending can look forward to an expanded conference program & series of events that will equip industry buyers & suppliers with the knowledge they need to keep abreast of market conditions & continually evolving consumer demands
Hong Kong (PRWEB) August 25, 2017
With the countdown to Seafood Expo Asia underway, event organizers, Diversified Communications, today announced details of the speakers and presentations that will headline its upcoming exposition to be held from 5-7 September 2017 at the Hong Kong Convention and Exhibition Centre.
According to Event Director, Ms. Iris Kwan, seafood professionals attending the 2017 event can look forward to an expanded conference program and series of events that will be hosted in two theatres of education, and will equip industry buyers and suppliers with the knowledge that they need to keep abreast of market conditions and continually evolving consumer demands.
Led by industry experts and chefs, visitors will have the opportunity to join conference plenary sessions, interactive master classes, culinary demonstrations, networking events as well as lively panel discussions and a workshop, while witnessing who is crowned the first winner of Seafood Expo Asia's newly launched Young Chef Challenge.
Conference Headliners
A leading forum within the trade event itself, Seafood Expo Asia's conference will bring together industry players and seafood specialists from around the world to discuss the latest topics and trends affecting the region's fish and aquaculture market.
With the Food and Agriculture Organization of the United Nations predicting that Asia's seafood market and consumption will lead the world by 2025, this year's expanded conference program sets the agenda for 2017 and beyond by providing attendees with access to the latest market and product intelligence, whilst addressing some of the most pressing issues facing the industry.
Focusing on insight, strategy and innovation, the conference program, which features speaker sessions, panel discussions, case studies and a workshop, will explore the state of the seafood industry and its rapidly changing conditions. In doing so, it will offer in-depth analysis and insight from across the entire regional and global seafood landscape through sessions including the following:
Highlighted Topics (with speakers):

The Origins of Fresh - Mr. Gerd Uitdewilligen, Director, International Sales, Emerson Cargo Solutions
Solution to Cold Chain Disruption - Dr. Matthew Man, President and CEO of Megasoft Ltd.
DNA Barcoding Authentication - Professor Hoi Shan Kwan, Chinese University of Hong Kong
Seafood from Aquaculture – Past, Present and Future - Professor K H Chu, Chinese University of Hong Kong
Sponsored Session: Maldivian Fisheries – Sustainably Different - Ali Ahmed, Production Manager/EHSA Manager, Ensis Fisheries Pvt Ltd, Maldives; Adley Ismail, CEO, Maldives Industrial Fisheries Co. Ltd
Sea to Table – Trends from a Hong Kong Consumer's Perspective - Mr. Michael Lee, FMCG and Retailer Verticals, Nielsen Hong Kong
What's the Catch – Knowing Your Fish: Three Case Studies by Aquaculture Fisheries
--Mr. Alexey Dorin, CEO, Fishance (Grouper)
--Zoneco (Scallop)
--Dr. Desiree Allen, Managing Director, Marine Produce Australia (Barramundi)

Workshop – Sustaining Sustainability:
Presentations: Understanding Certification
Panel Discussion
--Mr. Chris Hanselman, Managing Director, Pacific Rich Resources Group
--Mr. Ka Shing Leung, Marketing & Sales Director, KLG Fine Food
--Miss Janice Lao, Director, Corporate Responsibility and Sustainability, The Hong Kong and Shanghai Hotels, Ltd.

Q&A, Interactive Team Discussion
Master Classes and Culinary Demonstrations
To help participants keep pace with the hottest products, Seafood Expo Asia's live demonstration theatre will host a series of master classes, culinary demonstrations and product innovations presented by the industry's leading players.
Designed for buyers, senior executives, procurement managers and chefs from the foodservice, retail and seafood related industries, the onsite culinary presentations will educate visitors on how to source, select and prepare today's most popular products, uncovering food trends and ideas to improve both top and bottom-line results.
Highlighted Topics (with presenters):
Master Class: Ocean Grown Barramundi | Marine Produce Australia – Cone Bay Ocean Barramundi; Speakers: Dr. Desiree Allen and Chef Umar K. Nguyen
Culinary Demonstration: Alaskan Seafood – Wild Caught, Sustainable Seafood | American Indian Foods; Speakers: Executive Chef Jason Loyd of Hong Kong with commentary by Chris Li from the U.S. Agricultural Trade Office in Hong Kong
Master Class: Sea Urchin and Tuna (Maguro) | HK Sun Shun Co. Ltd
Master Class: Yellow Tail | Mark Glory Industrial Ltd; Speakers: Mr. Yick Siu Cheung, Director, Mark Glory Industrial Ltd and Mr. Hisashi linuma, Executive Managing Director, Owasebussan Co., Ltd
Young Chef Challenge
New for this year, Seafood Expo Asia is introducing a special Young Chef Challenge that will highlight the next generation of culinary talent in Hong Kong. Featuring sustainable seafood, attendees will be able to witness talented chefs creating unique dishes using mystery seafood ingredients in three exciting rounds of cook-offs.
The winner of the 2017 title will be announced at the Seafood Expo Asia demonstration theatre at 12:30p.m. on the final day of the event. The panel of judges for the challenge will consist of Mr. Gerhard Passrugger, Executive Chef, Grand Hyatt Hong Kong, Mr. Adam Mathis, Executive Chef, Island Shangri La, and Mr. Florian Muller, Chef de Cuisine, Harbour Grand Hong Kong.
Seafood Party
Aside from attending the educational sessions, participating exhibitors, hosted and key buyers will be invited to attend an exclusive Seafood Party scheduled to take place on the first afternoon of the exposition. Serving as a platform for networking, the reception provides the perfect opportunity for seafood executives to meet with potential new business partners, while catching up with existing contacts.
Business Matchmaking Program
In addition to its scheduled events, Seafood Expo Asia will once again offer a business matchmaking program for key and hosted buyers and high-volume importers to meet with qualified suppliers. The program is designed to assist participants in planning their day by searching for specific companies or products and pre-arranging meetings over the three day event.
For full event details and timings, please visit http://www.seafoodexpo.com/asia .
___________________________________________
About Seafood Expo Asia
Seafood Expo Asia is a trade event where buyers and suppliers of seafood from around the world come together to network and conduct business in the lucrative Hong Kong and Asia Pacific markets. The event's eighth edition takes place from the 5-7 September 2017 at the Hong Kong Convention and Exhibition Centre in Wanchai, Hong Kong. SeafoodSource.com is the exposition's official media covering industry news year-round. The exposition is produced by Diversified Communications and is co-located with Restaurant & Bar Hong Kong. http://www.seafoodexpo.com/asia.
About Diversified Communications
Diversified Communications is a leading international media company providing market access, education and information through global, national and regional face-to-face events, digital products and publications. Diversified serves a number of industries including: seafood, food service, natural and organic, healthcare, commercial marine, technology and business management. The company's global seafood portfolio of expositions and media includes Seafood Expo North America/Seafood Processing North America, Seafood Expo Global/Seafood Processing Global, Seafood Expo Asia and SeafoodSource.com. Diversified Communications, in partnership with SeaWeb, also produces SeaWeb Seafood Summit, the world's premier seafood conference on sustainability. Based in Portland, Maine, USA, Diversified has divisions in the Eastern United States, Australia, Canada, Hong Kong, Singapore and the United Kingdom. For more information, visit: http://www.divcom.com.
# # #
Editor's Notes
For media interviews or to request a copy of the photographs that accompany this announcement, please contact Janet Middlemiss on (852) 9195 7829 or at janet(at)jemworldwide(dot)com.
Media Contacts
For further information on Seafood Expo Asia, please contact:
Hong Kong
Janet Middlemiss
JEM Worldwide Limited
Tel: +852 2857 3832
Mobile: +852 9195 7829
Email: janet(at)jemworldwide(dot)com
USA
Jonathan Bass
Diversified Communications
Tel: +1 207 842 5563
Email: jbass(at)divcom(dot)com