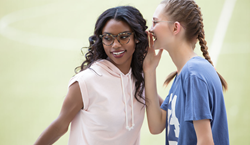 "The beginning of every school year proposes a fresh start. EyeBuyDirect's eyeglasses and sunglasses are now part of that experience - we not only correct your vision but help accentuate your style," said Sunny Jiang, EyeBuyDirect General Manager
Dallas, Texas (PRWEB) August 28, 2017
The fastest growing online eyewear retailer, EyeBuyDirect has launched a new Flashback to School eyewear collection featuring 90s-inspired frames for the school year, available now exclusively at EyeBuyDirect.com.
Known for its affordable and quality eyewear, EyeBuyDirect offers a complete pair of prescription eyewear starting at just $6. Expanding its style offerings, the Flashback to School collection includes 17 frame choices for men and women, featuring 13 fresh eyeglasses and four sunglasses with a 90s flair.
"The beginning of every school year proposes a fresh start. EyeBuyDirect's eyeglasses and sunglasses are now part of that experience - we not only correct your vision but help accentuate your style. Stylish sight for your studies is what this collection means to us," said Sunny Jiang, EyeBuyDirect General Manager.
Paying homage to the best of the 90s and breathing new life into old school classics, the Flashback to School collection includes everything from sleek and iconic metal frames to bold acetate frames in a range of fun colors. Frames in this special back to school collection range from $22-$70.
All EyeBuyDirect frames are available for prescription, non-prescription and Eyezen digital protection lenses allowing consumers the ability to customize glasses for their specific eyesight needs. The online interface includes a virtual try-on feature for satisfaction guaranteed shopping.
Just in time for the collection, EyeBuyDirect partnered with UNIDAYS to give students 20% off. UNIDAYS is an online hub for the best student discounts from major retailers. Students registered with UNIDAYS can now save 20% on frames and lenses and get free shipping from the U.S. Those not a UNIDAYS member can register for membership via EyeBuyDirect.
Available online now, the Flashback to School collection offers a fresh look for back to school fashion keeping quality and affordability in mind. View the full back to school range at http://www.eyebuydirect.com/collections/back-to-school.
About EyeBuyDirect
EyeBuyDirect was founded by Roy Hessel, president and CEO, in 2006 and has been part of the Essilor Online Division since 2013. With millions of customers annually, EyeBuyDirect continues its mission to provide easy access to affordable corrective eyewear, with a complete pair starting at $6. To learn more visit http://www.eyebuydirect.com.