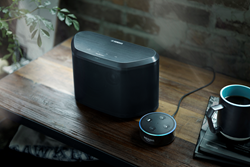 'In the coming months, we'll be taking Alexa integration even further, to provide a deeper, more seamless experience. We're just getting started,' said Robert Goedken, general manager, AV division, Yamaha Corporation of America.
BUENA PARK, Calif. (PRWEB) August 31, 2017
Yamaha is ramping up integration of Amazon Alexa with more than 40 of the company's MusicCast wireless multiroom products through an Alexa skill, making it faster and easier for audio enthusiasts to control their home entertainment experience.
The new hands-free capabilities will arrive as a firmware update in early October. An Alexa skill that adds support for MusicCast commands will be made available concurrently for Alexa-enabled devices, including the Amazon Echo, Echo Dot, Tap and Echo Show.
The MusicCast skill for Alexa will allow a user to power MusicCast products on and off, control basic playback functions, make selections from a playlist of favorite music and use the link function for playback of multiple MusicCast products simultaneously.
Taking things to the ultimate level of enjoyment, the update will enable Alexa control of a Yamaha Disklavier ENSPIRE, the seventh generation of the Disklavier reproducing piano family and the most advanced instrument of its kind, linked to other MusicCast wireless devices. This makes it possible for the piano to play beyond the four walls of a single room to any room in the home — even outside — and all controlled by spoken commands.
The Alexa skill and associated product firmware updates represent an initial step for integration of Alexa control with Yamaha AV products. Yamaha plans to offer deeper integration of Alexa in AV products by this winter.
"Playing music throughout the home simply by speaking a few words is truly remarkable," said Robert Goedken, general manager, AV division, Yamaha Corporation of America. "And when the source of that music comes from a real piano, it's like magic. We're excited that our customers will be able to experience this in their homes next month. In the coming months, we'll be taking Alexa integration even further, to provide a deeper, more seamless experience. We're just getting started."
First introduced in 2015, Yamaha MusicCast unites Hi-Fi and home theater performance with wireless multiroom simplicity. MusicCast features a broad spectrum of wireless speakers, sound bars, AV receivers, streaming amplifiers, Hi-Fi receivers, to a selection of the finest Disklavier reproducing pianos, representing an industry leading range of performance levels, price points and listening experiences from which to choose.
Designed to work with an existing home Wi-Fi network, MusicCast offers access to a wide range of audio content from virtually any source. These include streaming services, internet radio, digital music downloads, Bluetooth devices, and even external sources connected to MusicCast products, such as TV set-top boxes, Blu-ray Disc™ players and turntables. Unlike other wireless audio systems, MusicCast supports true high-resolution audio formats, bringing accurate reproduction of tonal nuances and expression.
For nearly 30 years, the Yamaha Disklavier has earned widespread accolades, not only as one of the finest acoustic pianos ever made, but also as the most popular, reliable and award-winning reproducing instrument in the world. Yamaha has sold more Disklavier pianos than any other modern day reproducing piano manufacturer, largely due to the instrument's perfect balance of fine craftsmanship, engaging sound, unrivaled multimedia capabilities and lifestyle versatility.
To learn more about the MusicCast skill for Alexa, please visit http://4wrd.it/YAMAHAMUSICCAST
About Yamaha
Yamaha Corporation of America (YCA) is one of the largest subsidiaries of Yamaha Corporation, Japan and offers a full line of award-winning musical instruments, sound reinforcement, commercial installation and home entertainment products to the U.S. market. Products include: Yamaha acoustic, digital and hybrid pianos, portable keyboards, guitars, acoustic and electronic drums, band and orchestral instruments, marching percussion products, synthesizers, professional digital and analog audio equipment, Steinberg recording products and NEXO commercial audio products, as well as AV receivers, amplifiers, MusicCast wireless multiroom audio systems, Blu-ray/CD players, earphones, headphones, home-theater-in-a-box systems, sound bars and its exclusive line of Digital Sound Projectors. YCA markets innovative, finely crafted technology and entertainment products and musical instruments targeted to the hobbyist, education, worship, music, professional audio installation and consumer markets.