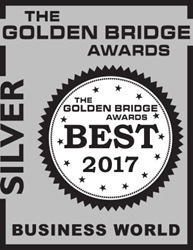 "BROWZ has been experiencing incredible growth and we've proven the scalability of our operations department to support our growing customer base" -Derek Borgert, BROWZ CTO
Salt Lake City, UT (PRWEB) August 28, 2017
Contractor management company, BROWZ has earned the prestigious Silver status in the Golden Bridge Awards for Customer Service Department of the year in the Cloud Computing/SaaS category.
The coveted annual Golden Bridge Awards program encompasses the world's best in organizational performance, innovations, products and services, executives and management teams, women in business and the professions, innovations, best deployments, product management, public relations, marketing, corporate communications, international business, and customer satisfaction programs from every major industry in the world. Organizations from all over the world are eligible to submit nominations including public and private, for-profit and non-profit, largest to smallest and new start-ups.
"It's an honor to be named a winner by Golden Bridge Awards for this industry and peer recognition," said Elaine Beitler, CEO of BROWZ. "I am proud of this award and even more proud of our team and their accomplishments. Their dedication is an integral part of our contractor management system. The operations team is truly on the front lines for BROWZ and this award is acknowledgement of the entire team's efforts."
This award follows a recent announcement from BROWZ on winning a 2017 Stevie International Business Award for Support Department of the Year.
"BROWZ has been experiencing incredible growth and we've proven the scalability of our operations department to support our growing customer base," says Derek Borgert, CTO and VP of Operations at BROWZ. "What's incredible about the BROWZ team is that our customers' compliance levels continue to improve as a percentage, along with the growth of our customer base. This is a testament to our team's dedication to our customers and addressing what matters most for their businesses."
--
About BROWZ:
BROWZ ensures that supply chains are safe, qualified, and socially responsible by delivering a comprehensive solution to prequalify, assess, and monitor supply chain compliance based on the unique needs of your business. BROWZ provides comprehensive assessments using patented, configurable technology and expertise, resulting in the site operator's confidence of a safer work environment for clients and supply chains around the world. The BROWZ product suite addresses global supply chain needs related to qualifying your supply chain, addressing risk, managing employee-level data, conducting safety auditing, and sourcing new suppliers.
About the Golden Bridge Awards
Golden Bridge Awards are an annual industry and peers recognition program honoring best companies in every major industry from large to small and new start-ups in North America, Europe, Middle-East, Africa, Asia-Pacific, and Latin-America, Best New Products and Services, Best Innovations, Management and Teams, Women in Business and the Professions, Case Studies, Customer Satisfaction, and PR and Marketing Campaigns from all over the world. Learn more about The Golden Bridge Awards at http://www.goldenbridgeawards.com