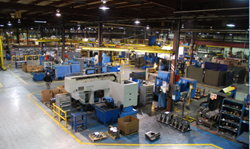 Manufacturing events across the state highlight high-tech processes, robotics and advanced logistics.
Atlanta, GA (PRWEB) August 29, 2017
Manufacturing professionals across the state have the opportunity to attend a wide assortment of plant tours, tradeshows, training sessions, and networking events produced by the Georgia Manufacturing Alliance. These events help promote the leading manufacturers, products and people that support the manufacturing community in Georgia. Some of the upcoming events include:
2017 GEORGIA MANUFACTURING SUMMIT– October 25 – Cobb Galleria Center
This is Georgia's manufacturing event of the year and brings together the People, Plants, and Products that create a vibrant economy in our state. This 3rd Annual event is expected to attract over 700 manufacturing professionals from a wide variety of industries. Breakfast Keynote Speaker, Debra Shankle, V.P. of Supply Chain for Coca-Cola North America, will address "How to Keep Employees Engaged, Motivated and Committed in Today's Environment." Lunch Keynote Speaker, Rob Dugas, VP and Chief Procurement Officer of over 2,000 Chick-fil-A stores, will address the "The New Trends in Manufacturing & Supply Chain Management". Over 20 industry leaders will also address Best Business Practices, Health & Safety in the Workplace, Sales & Marketing, IT and Technology Advances, and Creating a Better Bottom Line. For more details or to register, visit: http://www.GeorgiaManufacturingSummit.com
RISE AGAINST HUNGER – September 12 – Atlanta
Leaders in the Metro Atlanta manufacturing and supply chain community will combine forces for the fight against global hunger on September 12, 2017 at the Georgia Tech Hotel and Conference Center from 5:30pm – 9pm. APICS Atlanta and the Georgia Manufacturing Alliance have partnered with Rise Against Hunger to conduct a meal-building operation. Our target is to pack over 5,000 meals that will be distributed to those in need around the globe. There is no charge for the event and attendees are encouraged to stay afterwards for refreshments, networking and Trivia. For more info, please contact Scott Luton at 678-296-5268 or email evp(at)apicsatlanta(dot)org.
POWERTECH PLANT TOUR – September 13 – West Point
Hyundai PowerTech America is an auto parts manufacturer specializing in automotive transmissions for Hyundai and KIA. Their 285,078 sq. ft. production facility has capitalized on maximizing productivity through the diligent application of key advanced manufacturing techniques such as industrial robotics, lean management, and advanced logistics.
WHEELABRATOR PLANT TOUR – September 21 - LaGrange
Wheelabrator is one of the world's leading providers of surface preparation technology, offering a complete range of airblast, wheelblast and mass finishing solutions for the aerospace, automotive, foundry, shipping, construction and medical industries. They not only specialize in the blast process, but can also design and deliver a complete, automated, materials handling solution to include masking, delivery, loading and unloading of the components, and delivery to the next process in your production line.
HON COMPANY PLANT TOUR – September 22 - Cedartown
Since 1944, The HON Company has been a global leader in creating high quality steel and wooden office furniture including brands such as AllSteel, Maxon & Basyx. While touring their 500,000 sq. ft. facility, attendees will see significant investments in state-of-the-art manufacturing and their vast fulfillment center. HON remains focused on manufacturing most of its products in the USA – everything from individual components to complete furniture solutions. They examine every step in the product life cycle to uncover ways to minimize their footprint including designing and manufacturing products that incorporate recycled content.
ADVANCED RP & SIMUTECH TOUR – September 28 – Suwanee
Advanced RP is home to the Southeast's largest 3D printing Demo Center showcasing Stratasys and Desktop Metal 3D printers. Attendees will walk through the entire 3D printing process from initial concept, to the optimized version, to the finished printed model. They provide custom demos based on your applications (rapid prototyping, design, production parts), so you will leave knowing exactly what you can expect from 3D printing. Simutech will give you an overview of their Topology optimization that lets you specify where supports and loads are located on a volume of material and lets the software find the best shape. This process helps perform light weighting of structures, extract CAD shapes and quickly verify the optimized design. You can also simulate spatially dependent materials like composite parts, 3-D printed components, and bones and tissues for more accurate results.
CELEBRATE NATIONAL MANUFACTURING DAY
Leggett & Platt Plant Tour– October 5 – Monroe
NO CHARGE to attend and OPEN TO THE PUBLIC – Drop In 10am- 2pm
Attendees will enjoy a plant tour, refreshments, and guest speakers to celebrate National Manufacturing Day. Leggett & Platt is a diversified manufacturer that conceives, designs and produces a broad variety of engineered components and products for customers worldwide. Chances are you have slept on a bed made with Leggett components - box springs, innersprings, fiber comfort layers; have relaxed in a recliner that has an L&P motion mechanism powering it; and have shopped in stores that have products displayed on shelving made by Leggett & Platt.
NETWORKING EVENTS – Alpharetta, Gwinnett, NE and NW Georgia
These sessions help GMA service providers and manufacturers connect and expand their referral network. Only one professional per business category is allowed which makes them the "go to" person for their industry.
NE Coffee & Connections -- 1st Tuesday of each month (8:00 am – 9:00 am) in Gainesville
Alpharetta Networking Lunch -- 1st Tuesday of each month (11:30 am – 1 pm)
Gwinnett Coffee & Connections -- 1st Friday of each month (7:30 am – 9 am) in Suwanee
NW Networking Lunch -- 1st Friday of each month (11:30 am – 1 pm) in Atlanta (Cobb Galleria Area)
ABOUT THE GEORGIA MANUFACTURING ALLIANCE:
The Georgia Manufacturing Alliance (GMA) is a membership-based industry organization founded in 2008 to support Georgia's manufacturing community. GMA provides monthly plant tours, educational sessions, tradeshows, and unique networking opportunities designed to help make profitable business connections for its members. The Georgia Manufacturing Directory, Georgia Manufacturing Summit, and Georgia Manufacturing Calendar are additional resources produced by GMA. To learn more about the organization, membership, and upcoming events, please call 770-338-0051 or visit their website http://www.GeorgiaManufacturingAlliance.com .