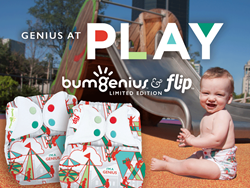 We've timed the release of Play to coincide with back to school. Even when schedules get hectic, it's important to make time to play!
St. Louis, MO. (PRWEB) August 28, 2017
Cotton Babies, Inc. is having a ball introducing a new print to customers. The latest Genius Series print, Play, celebrates the unique way a community comes together and a special place where children explore their imaginations and develop a lifetime of skills.
Great ideas are often collaborations from groups of people to advance a field of study. Instead of limiting ourselves to just one genius, we've decided to celebrate many great contributors with this fun new print, which is part of the ongoing Genius Series. Through the years, playgrounds and the science of play has evolved through the input of many physicians, inventors, activists, sociologists, engineers, parents, and of course, children. Their collective genius played a part in the inspiration behind this Genius print.
This amusing design features pops of bumGenius colors Pepper and Hummingbird(red and green) throughout a playground scene featuring slides, swings and more. Play is available for a limited time in bumGenius Elemental, Original 5.0, Freetime, Littles, Big, Bigger, Flip, Flip Trainer, Outing Wet Bag, Weekender Wet Bag, Mini Wet Bag, and Pail Liner.
By modernizing cloth diapers with easy-to-use designs and adorable prints like Play, the company has made strides in recent years to make cloth diapers mainstream again.
"We've timed the release of Play to coincide with back to school. Even when schedules get hectic, it's important to make time to play," said Jennifer Labit, Cotton Babies founder & CEO. "This design reminds us to enjoy ourselves and our loved ones."
There is genius at work when we play and embrace the fun of childhood. Visit cottonbabies.com to shop for Play and many other natural parenting solutions.
About Cotton Babies
Calling Fenton, MO home, Cotton Babies is a privately held market leader in the juvenile product industry and a diverse retailer, offering cloth diapers and a wealth of other products designed to make parenting easy. Cotton Babies is a socially active organization supporting outreach and diaper grant programs for financially underprivileged families. CEO Jennifer Labit is a founding chair of the Real Diaper Industry Association for manufacturers, retailers, diaper services, health care providers, and other parties interested in supporting the cloth diaper market. Cotton Babies products are sold on CottonBabies.com and through independent juvenile products stores and major retailers. Cotton Babies diaper brands include bumGenius™, Flip™, and Econobum™. Find Cotton Babies on Facebook, Pinterest, and the OEKO-TEX® Buying Guide.
CottonBabies.com, @cottonbabies
Contact:
Julia Lohmeyer
julia(at)cottonbabies(dot)com / media(at)cottonbabies(dot)com
(888)332-2243 x236