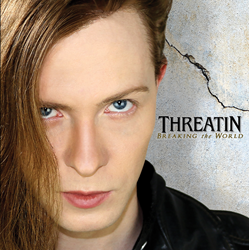 I consciously tried to break down any barriers that could restrict my creativity
Los Angeles, CA (PRWEB) August 26, 2017
Rock music's new breakthrough artist Threatin released his highly-anticipated debut album "Breaking the World" this week. It's available in stores worldwide via Superlative Music Recordings (World) & SPV Records (Europe & UK). It was recorded at Mindframe Studios in Los Angeles, CA and mastered at Sterling Sound in New York, NY by Grammy-nominated engineer Greg Calbi - known for his work with John Lennon, David Bowie, and Bruce Springsteen.
Jered Threatin, known professionally as Threatin, is a singer, song-writer, and multi-instrumentalist from Los Angeles, CA that exploded onto the music scene in 2012 and quickly rose to stardom. In a recent interview Threatin stated, "Musically, the album is very diverse. A song like "All Your Pain" is quite different than "Impulse" or "The Place Between". When I began writing the album I tried to think of each song as a doorway to a musical direction that I could continue to explore in the future. Knowing it was my debut album, I consciously tried to break down any barriers that could restrict my creativity moving forward. The first two singles;" Living is Dying" and "Identity" were extremely well-received by fans so I look forward to everyone finally being able to hear the full album."
The track listing for the album is shown below.
1. Breaking the World
2. Living is Dying
3. The End of You
4. The Place Between
5. If Need Be
6. Identity
7. Rip Through These Chains
8. A Memory Forgotten
9. Impulse
10. Conscious
11. Fade into Never
12. All Your Pain
"Breaking the World" is available on iTunes, Amazon, Google Play, Best Buy, and Barnes & Noble.
For more information visit: http://www.Threatin.com.