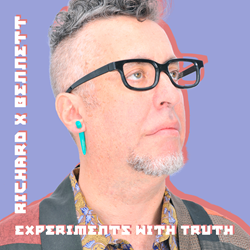 I don't claim to be a raga musician, because first off, the piano isn't a raga instrument. I'd say it's raga-based. I like the analogy they use on cooking shows, 'This is my take on a dosa.' As a jazz musician, this is my take on raga."
Richmond, CA (PRWEB) August 25, 2017
Since moving to New York from his native Toronto in the 1990s, pianist and composer Richard X Bennett has thrived as a performer in a broad variety of stylistic contexts. Splitting his time between New York and Mumbai, he released a series of acclaimed albums on several Indian imprints, with his last two on Times Music, India's largest label.
Until now, however, Bennett had yet to put an album out on an American label. On October 6, a dual release by Ropeadope Records will mark the pianist's first American recordings—the trio date "What Is Now" and the Indo-jazz quintet session "Experiments With Truth." Bennett displays his loose, percussive, and conversational instrumental style on the trio album. The raga-infused music on the quintet album is something else again, as stylistically remote from his trio opus as the Big Apple is from Bollywood.
Bennett is joined on both CDs by bassist Adam Armstrong and drummer Alex Wyatt, with baritone saxophonist Lisa Parrott and tenor and soprano saxophonist Matt Parker augmenting the trio on the quintet album. "What Is Now: presents Bennett as a bold instrumentalist and as a composer of themes that beg for lyrics. The album's mood, energy, and tone range from the tender opener "Vital Grace" to the playful "Go Against the Tide," from the sanctified sway of "Sefrou Soul" to the cinematic scope of "Bittersweet Success." One also gets a taste of Bennett's sense of humor on a distinctly original doo-wop arrangement of "Over the Rainbow."
Bennett describes the quintet's sound on "Experiments With Truth" as "Mingus meets raga in the 21st Century." Music he originally conceived and performed with North Indian classical musicians is arranged and performed in a jazz context. "As far as I can tell it's the first time it's been done," Bennett says. "I don't claim to be a raga musician, because first off, the piano isn't a raga instrument. I'd say it's raga-based. I like the analogy they use on cooking shows, 'This is my take on a dosa.' As a jazz musician, this is my take on raga," the vast vocabulary of melodic structures, or modes, upon which classical Indian music is based.
"I was always somewhat of a minimalistic player," Bennett adds. "The blues is also like a specific raga, and if you play it academically it won't sound right. You can't just run the scales. With Indian music, everybody else was doing fusions based on complicated rhythmic figures. I'm much more interested in the melodies."
"Experiments With Truth" opens with "The Fabulist," a long, persuasively surging piece based on a particularly ancient raga (raga malkauns). "Portrait in Sepia" feels like an Ellingtonian tone poem by way of Calcutta, opening with an ominously swaying cadence designed for Parrott's brawny horn. The album's centerpiece is the two-movement "Durga Suite," which evokes dual but very diverse aspects of the warrior goddess Durga (also known as Devi and Shakti). The title track, which borrows its name from Gandhi's autobiography "The Story of My Experiments With Truth," is a stimulating and increasingly wild piece inspired by the early morning raga ramkali.
While growing up in Toronto, Richard X Bennett honed his own approach to the piano. His highly personal sound flowed from limited contact with bebop and early exposure to traditional New Orleans jazz and avant-garde combos like the Art Ensemble of Chicago and World Saxophone Quartet. The first jazz he ever saw live was South African pianist Abdullah Ibrahim, "And I walked out of the concert being able to play five of his songs," Bennett recalls. "I've always loved that inside/out approach, Jaki Byard and Don Pullen. I don't play bop but I do just about every other jazz style."
He introduced his Indo-jazz concept on the 2009 solo album "Ragas on Piano" (Dreams Entertainment), and expanded the instrumentation with the late bassist Gaku Takanashi and tabla master Naren Budhkar on 2011's "Raga and Blues" (Mystica Music). Picked up by Times Music, India's biggest label, he released 2013's critically hailed "New York City Swara," with Takanashi, Budhkar, Carnatic violinist Arun Ramamurthy, and drummer Michael Wimberly, followed by the 2015 duo album "Mumbai Masala" with Hindustani vocalist Dhanashree Pandit Rai. Today Bennett also works with Honk & Tonk, a "N.O.L.A. meets noir" duo with saxophonist Michael Blake, and composes for modern dance, most recently a piece for the Alvin Ailey Company performed at the Essence Festival in New Orleans.
Bennett will celebrate the release of "What Is Now" and "Experiments With Truth" in the company of his trio and quintet, at Rockwood Music Hall in New York City on Wednesday, October 11.