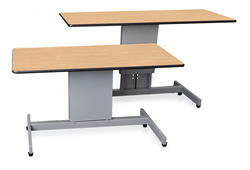 Teachers are telling us that kids want to stand, and that these products encourage kids to stay on task while meeting their physical needs. -- Nancy Dellamore, Marvel Group Product Manager.
Chicago, IL (PRWEB) August 28, 2017
The Marvel Group continues to grow its successful Focus Desk line of height adjustable classroom furniture products with the introduction of the new Focus Activity Table. This innovative group work station allows children to stand or sit comfortably, with a silent lift system that kids can raise or lower without assistance.
Research shows that children who have the option to stand in class demonstrate higher engagement, access working memory more efficiently, and break the sedentary habits that contribute to childhood obesity. A full range of height adjustability supports healthy posture, and child-friendly operation leads to better self-regulation and independence.
Marvel's original sit-to-stand Focus Desk has become popular with teachers around the country as a way to allow children to stand and move in class without disruption. Designed in partnership with teachers in real-world classroom settings, the Focus Desk is designed to help elementary-age students organize materials, work collaboratively, and stay on task. A larger-scaled version, the Focus Desk XT, was introduced in early 2017 for high school and college students.
The new Focus Activity Table offers a large work surface that can be shared by multiple children. Available in 48" or 60" widths, it complies with ADA accessibillity standards as well as height adjustability for all students. The Feathertouch™ pneumatic cylinder lift system easily sets the work surface between 28" and 42" in height.
"We are excited to offer this new addition to the Focus line," says Marvel Group Product Manager Nancy Dellamore. "Teachers are telling us that kids want to stand, and that these products encourage kids to stay on task while meeting their physical needs. As collaborative work becomes more and more important in education, the Focus Activity Table supports all the positive benefits that children receive individually using The Focus Desk."
To learn more about The Marvel Group's line of Focus products, visit http://marvelfocusdesk.com.
About The Marvel Group
The Marvel Group is a 70 year-old Chicago-based manufacturer of a wide range of high-quality furnishings to large, small, and home office markets as well as the education market. Product lines range from office chairs and file cabinets to executive office furniture and open office work-stations. Marvel® products are manufactured to ISO 9001 certified guidelines and backed by a lifetime warranty. The Marvel Group offers superior customer service to assure a problem-free and timely project completion. For more information, visit http://www.marvelgroup.com.